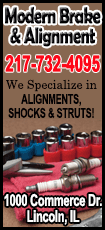 Colorectal cancer is the second leading cause of cancer-related deaths in the United States, according to the American Cancer Society. The lifetime risk of developing colorectal cancer is one in 20. The risk is slightly higher in men than in women.
Logan County had 20.5 colon cancer deaths per 100,000 people from 2006 to 2010, the most recent range of statistics available from the National Cancer Institute. That's higher than the statewide rate of 18.1 deaths per 100,000.

The rate for men in Logan County is 24.8 deaths per 100,000 and for women is 15.5 per 100,000.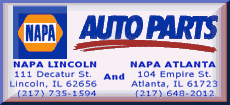 "You can have precancerous polyps and early-stage colorectal cancer without a single symptom," said Dr. Richard Bivin, a family medicine physician with Memorial Physician Services-Lincoln and president of the medical staff at Abraham Lincoln Memorial Hospital. "Colon cancer frankly doesn't care if you're a man or a woman, how busy you are or how reluctant you are to be tested."

That's why Abraham Lincoln Memorial Hospital wants to encourage people who are 50 years old or older to be screened for colon cancer in March, which is National Colorectal Cancer Awareness Month, Bivin said.

If everyone who was 50 years old or older had regular screening tests, at least 60 percent of deaths from colorectal cancer could be avoided, according to the Centers for Disease Control and Prevention.
Colorectal cancer usually starts from polyps in the colon or rectum. A polyp is a growth that shouldn't be there. Over time, some polyps can turn into cancer, the CDC said.
Screening tests, such as a colonoscopy, can find polyps and remove them before they turn to cancer. During a colonoscopy, the physician uses a long, thin, flexible, lighted tube to check for polyps or cancer inside the rectum and the entire colon.

The American Cancer Society estimates that more than 136,000 new cases of colorectal cancer will be diagnosed in the United States this year, and more than 50,000 will die.

For more information, call (217) 605-5370.
[Text received from ABRAHAM LINCOLN MEMORIAL HOSPITAL]