New Holland-Middletown goes Chrome!

Send a link to a friend Share
[March 03, 2014] MIDDLETOWN — New Holland-Middletown Elementary District 88 recently reached its goal of becoming a 1:1 school district two years ahead of schedule. The District has taken an innovative approach to instruction utilizing technology with its adoption of Google Chromebooks in the classroom. All students in grades 3rd through 8th have finally received their own personalized Chromebook (Google-based Internet laptop) and have begun learning the important skills of cloud computing.
Following a summer symposium in the Chicago suburban school district Leyden 212, the Chromebooks were selected as the choice for transforming NH-M into a 1:1 learning environment. While Apple iPads have been deployed to the younger grades of Kindergarten through 2nd, the shift from low-level apps to higher-level technology creation and cloud computing is more appropriate for upper grade levels, which is made possible by NH-M becoming one of the only official "Google Apps for Education" school districts in the area.

According to NH-M Superintendent Todd Dugan, what makes NH-M's adoption of the Google Chromebooks unique is the "overwhelming community support in making this technology paradigm happen. When two small rural communities with a combined population of 650 people can help raise over $50,000 in funds in less than 8 months to provide students with access to an education befitting the 21st Century, that says a lot about the learning community we are blessed to have here at NH-M. With a student population approaching 70% poverty, providing students with ubiquitous online access is extremely important. This shift to online learning engages kids by speaking their language, and technology is the perfect disruptor to the barriers of poverty."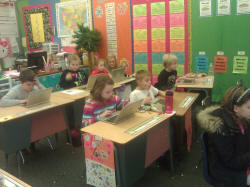 Pictured here are students in Miss Minde Moore's 3rd grade class receiving individualized Math instruction on their NH-M logo-adorned Chromebooks.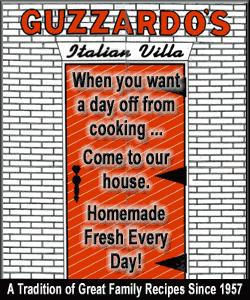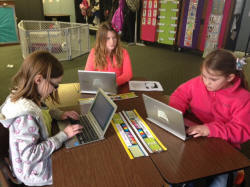 Also pictured are the 4th grade students in Miss Sallie Traeger's 4th grade class completing a Google Chromebook "scavenger hunt" on the exciting first day of deployment. For more information on NH-M's 1:1 computing initiative, please visit the district's website at http://www.nhm88.com
[Text received from TODD DUGAN, New Holland-Middletown School]