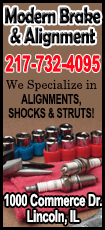 This free session will be held March 6th at 6:30PM at the new Pistol Prep Academy Headquarters located at 114 SW Arch Street in Atlanta. Light refreshments will be served — no reservations needed.
Pistol Prep Academy also has Illinois Concealed Carry classes scheduled in March on the 7th-8th and again on the 22nd-23rd.
You can find more information and/or register for a course at www.pistolprepacademy.com
For additional details, call Annette (309) 830.7182 or email at info@pistolprepacademy.com.
You may also 'like' Pistol Prep Academy on Facebook at www.facebook.com/pistolprepacademy
[Text received from PISTOL PREP ACADEMY]