[March 06, 2014]
Send a link to a friend Share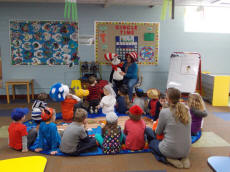 March 2 marked the 110th birthday of Theodor Seuss Geisel, aka Dr. Seuss. In celebration of the special children's author, the students of the Lincoln Christian Church Preschool have spent this week participating in special Seuss activities.
On Monday the children heard the story "Fox and Socks" and came to school wearing all kinds of funny and colorful socks.
Tuesday they heard the story "One Fish, Two Fish, Red Fish, Blue Fish." That day they were to wear red and blue to school and played special color-matching games.
On Wednesday it was "Cat in the Hat" day in the classroom. The children were encouraged to bring and wear their favorite hat while the church's children's minister, Marcia Wells, read them the book "The Cat in the Hat" Afterward they enjoyed a snack of cupcakes and took guesses at how many fish were in the fishbowl.
Theodor Seuss Geisel began his career as a serious news journalist during World War II. There he started illustrating and was introduced to the art of animation. He later worked on military films such as "Your Job in Germany" and "Your Job in Japan." He later wrote for Life, Vanity Fair and Judge magazines. He did his first book illustration for a collection of children's books called "Boners." Through a long and winding road of various illustration and writing projects, Geisel was finally approached to write a children's primer using 220 new-reader vocabulary words. It was then that he wrote 'The Cat in the Hat." The book was published in 1957 and launched his career as Dr. Seuss. Geisel also wrote books under the pen name Theo LeSieg, his last name spelled backward.
Pictures by Karen Hargis.