Be 'alert savvy' to stay safe in severe weather

Send a link to a friend Share
[March 07, 2014] CHICAGO — Understanding severe weather watches and warnings will help to keep you and your family safe during a disaster. FEMA and the National Weather Service encourage everyone to learn this lifesaving information and act if extreme weather threatens their area.
NWS alerts that are used to warn of severe weather, flood and tornado hazards include the following: — Tells when and where severe thunderstorms are likely to occur. Watch the sky and stay tuned to NOAA Weather Radio, commercial radio or television for information.

Severe thunderstorm warning

— Issued when severe weather has been reported by spotters or indicated by radar. Warnings indicate imminent danger to life and property to those in the path of the storm. Gather family members and pets and take shelter immediately. Have your emergency supply kit ready and continue to monitor your NOAA Weather Radio, commercial radio or television for more information.

Tornado watch

— Tornadoes are possible. Remain alert for approaching storms. Watch the sky and stay tuned to NOAA Weather Radio, commercial radio or television for information.

Tornado warning

— A tornado has been sighted or indicated by weather radar. Take shelter immediately.

Flood watch

— Flooding is possible. Tune in to NOAA Weather Radio, commercial radio or television for information.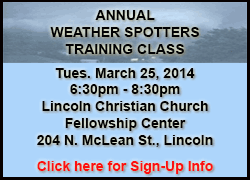 Flash flood watch

— Flash flooding is possible. Be prepared to move to higher ground; listen to NOAA Weather Radio, commercial radio or television for information.

Flood warning

— Flooding is occurring or will occur soon. If advised to evacuate, do so immediately.

Flash flood warning

— A flash flood is occurring. Seek higher ground on foot immediately. Do not attempt to drive into flooded areas or walk through moving water.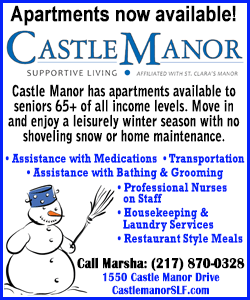 Be aware that sirens are designed as an outdoor warning system only to alert those who are outside that something dangerous is approaching. A NOAA Weather Radio can be critical to ensure you're alerted to dangerous weather when indoors.
"The National Weather Service provides accurate and timely warnings and advisories, but they are only effective if people receive them, understand their risk and take the correct action to protect themselves," said Teri Schwein, acting director of the Central Region of the National Weather Service. "Everyone should make time to prepare themselves before severe weather strikes by signing up for local weather emergency alerts, understanding NWS warnings and developing an emergency action plan."
"Wireless Emergency Alerts (WEAs) sent to a mobile device are also used to notify individuals of potentially dangerous weather conditions," said Andrew Velasquez, regional administrator for FEMA Region V. "If you have a WEA-capable phone and your wireless carrier participates in the program, this will enable you to be immediately aware of potentially life-threatening emergencies."
For more information about WEA, visit www.fema.gov/wireless-emergency-alerts, and for valuable tips to help prepare for severe weather, visit www.ready.gov/severe-weather or download the free FEMA app, available for Android, Apple or BlackBerry devices.
[Text from file received from FEMA Region V]
FEMA's mission is to support citizens and first responders to ensure that as a nation we work together to build, sustain and improve our capability to prepare for, protect against, respond to, recover from and mitigate all hazards. Follow FEMA online at twitter.com/femaregion5, facebook.com/fema and youtube.com/fema. Also, follow administrator Craig Fugate's activities at twitter.com/craigatfema. The social media links provided are for reference only.