[March 07, 2014]
Send a link to a friend Share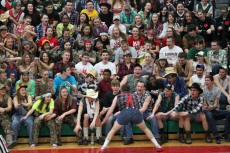 In this season especially, we have often heard the words "Railer Nation." While most of us assume that the title belongs to all those who faithfully go and root for the Railers, the fact is there is one particular group that claims the name.
Each week, there is a group of 60 to 70 high school students who make a point of sitting together, dressing alike and offering their support to the Railers by raising the energy level in the gymnasium, sometimes to a feverish pitch.
LCHS seniors Daniel Hemenway, Hank Freed and Jake Day are the ones behind the group. Recently Hemenway offered some insight into the group. At the home games here in Lincoln, you will oftentimes see the kids dressed in costume. These range from their white "Hail the Rail" T-shirts to their best pajamas, to something that might best be described as "Duck Dynasty" at a redneck rodeo. Hemenway said the three leaders generally decide a day or two in advance of the game what the section will wear, then get the word out. Usually, he said there are only 60 to 70 who participate, but the obvious exception was at the last Railer game versus Lanphier.
"At the latest game versus Lanphier we had close to 210 kids," Hemenway said. "That game was the craziest I've seen the student section since I've been here, and I was just happy I could be a part of it."
Hemenway said that the section does travel to the away games, but in his words, "We travel decently as a section. We only really stood up and cheered when we played at Lanphier. Other than that we just wear a certain color and sit together."
At the home games they are much more animated, doing cheers and motions such as their "roller coaster." In all, the idea behind the group is to show their support, but more important, to be a part of something that is a big deal at Lincoln High School: Railer basketball.
Pictures by Debbie Olden from LDN archives