Illinois Department of Insurance warns about the dangers of stranger-originated life insurance arrangements, or STOLIs
STOLIs not the same as traditional insurance policies and illegal in Illinois
Send a link to a friend Share
[March 08, 2014] CHICAGO — Illinois Department of Insurance Director Andrew Boron is warning consumers about stranger-originated life insurance arrangements. Unlike a traditional life insurance policy where a consumer initiates the application for insurance and the insured's loved ones are beneficiaries of the death benefits, a stranger-originated life insurance arrangement involves a group of investors, often strangers, who initiate the application for life insurance by offering the participant an upfront lump-sum payment in exchange for allowing the group to purchase the insurance on the participant's life. (Click here for the rest of the story.)
Millions of MSNs are undeliverable: Are you getting yours?
By Jason B. Echols, health care consumer protection coordinator with AgeOptions
OAK PARK — The U.S. Department of Health and Human Services Office of Inspector General recently released a report that over 4 million Medicare Summary Notices, or MSNs, were undeliverable to Medicare beneficiaries in 2012. The most common reason why the notices were undeliverable is because of incorrect or invalid beneficiary addresses. You can read the full report here: https://oig.hhs.gov/oei/reports/oei-03-12-00600.asp. (Click here for the rest of the story.)
---
Elderly profit from group meetings and home visits
By Ronnie Cohen
NEW YORK (Reuters Health) — Group meetings and preventive home visits helped octogenarians maintain their health, independence and a positive outlook, according to a first-of-its-kind study in Sweden. (Click here for the rest of the story.)
---
Christian Village offers 'Almost Home' temporary apartment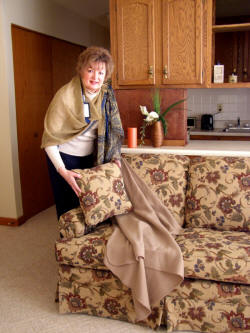 Julie King, Christian Village director of independent living, puts the finishing touches on the Almost Home apartment available for individuals needing a temporary place to stay before going home from the hospital or nursing home.
After a hospital or nursing home stay, some people are unable to return home because they can't handle housekeeping and meal preparation. To help these individuals while they're regaining their strength, The Christian Village has established an "Almost Home" apartment that can be rented by the week. (Click here for the rest of the story.)
---
---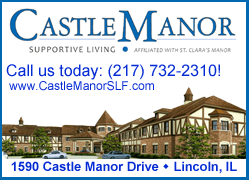 ---
Olympians of Social Security
By Becky Whitlow, Social Security district manager in Springfield
SPRINGFIELD — While the eyes of the world focus on the XXII Winter Olympics in the resort town of Sochi, Russia, this month, the Social Security Administration brings your attention to another worthy focal point: Internet safety. (Click here for the rest of the story.)
---
Can word games make us smarter?
Award-winning author shares three ways to teach kids language skills and keep elderly minds sharp
When older generations complain about reading and writing skills among today's youth, they point accusingly at technological advances, says award-winning author and college teacher Daniel L. Wick. (Click here for the rest of the story.)
---
Peripheral artery disease: Screening and early treatment can save your legs and your life
(BPT) — Frequent leg cramps, leg pain when walking and slow-to-heal sores on your feet are annoying, but did you know they can also be symptoms of a serious disease? (Click here for the rest of the story.)
---