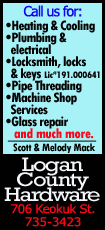 Citizens of Logan County:

I am writing to tell the people of Logan County why I am voting for Mike Geriets for Logan County sheriff. Knowing Mike for years, I have seen firsthand his positive influence on the officers who work under him, the students he taught in the D.A. R.E. program, along with his friends and family. Mike is very good at what he does, and is respected and well-liked by everyone.

Mike is very professional and does not allow personal issues or personalities to get in the way of what needs to be done to successfully run a police department.

Mike is a great father to his four children: Megan, Christina, Tori and Jackson. Unfortunately, in this day and age, parents have to worry about the safety of their children when they can't be with them. Mike has taken these concerns to the next level by being a major part of the Safe School Initiative program. Mike has assisted in training all staff of our schools on how to react to a critical incident. Mike not only cares about the safety of our children, but the safety of all of the children in Logan County.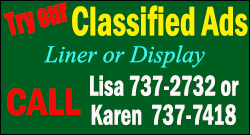 I can tell you firsthand the relationship between the Logan County Sheriff's Department and other police departments in the county is nonexistent.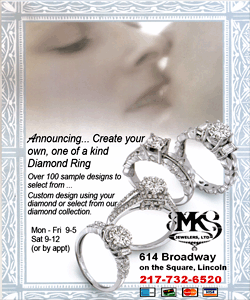 The people of Logan County suffer because of a lack of communication between departments. The goal for all officers is to reduce crime in the communities they work. This goal is easier to reach when officers work together and share information with each other. If a crime has been committed in Atlanta and a deputy has a suspect they are looking for, all other police departments in the county should be aware of this, and to also be on the lookout. Imagine a police officer stopping a car for a routine traffic violation and the driver is a suspect in a crime. If the officer is not aware this person is a suspect in a crime, this becomes a huge safety issue to not only that officer, but people in the public.
This county needs change. So many improvements can and should be made. Steve Nichols has said, "If it ain't broke, don't fix it." In my opinion it is broke. Elect Mike Geriets to fix the problems with the Logan County Sheriff's Department.
Thank you, Christy Fruge
Friend, co-worker and mother to Mike's twins
[Posted March 12, 2014]