William "Bill" C. Bates Jr. practiced law in Lincoln beginning in the 1950s. In 1972 he joined with Robert J. Woods and Dick H. Woods Jr. and formed the Woods & Bates Law Office, which today is run by Bill's son and grandson, Bill and Blinn.

Funeral services are planned for Friday at 11 a.m. at Trinity Episcopal Church with Father Mark Evans officiating.

Memorials may be made to the George Gahr Memory Unit at the Christian Nursing Home or to the Abraham Lincoln Healthcare Foundation.

Click here to view full obituary.
---

Tourism board to meet Thursday evening
The first meeting of March for the Abraham Lincoln Tourism Bureau of Logan County will be on Thursday, March 13, at 5 p.m. at the Lincoln/Logan County Chamber of Commerce office in Lincoln.
The change in location to the chamber office is due to a scheduling conflict at the Holiday Inn Express.
---

LEPC quarterly meeting to be March 19
The next quarterly meeting of the Logan County Local Emergency Planning Committee will be on Wednesday, March 19, at noon in the Blue Room of the Logan County Safety Complex, 911 Pekin St.
---

Hartsburg-Emden FFA to host Hunter Safety Clinic
HARTSBURG — The Hartsburg-Emden FFA is hosting a Hunter Safety Clinic on April 4 and 5 at the Hartsburg American Legion building. Participants must attend both sessions. The clinic starts at 6 p.m. April 4, and the April 5 session begins at 9 a.m.
For more information, contact Betsy Pech at 217-642-5244.
---

HSLC seeks donations for annual garage sale
The Humane Society of Logan County will have its fundraising garage sale this year on June 13, 14 and 15, in conjunction with the Logan County Route 66 Garage Sale. The Humane Society's sale will again be at the Logan County Fairgrounds.
A wide variety of items will be available, including home décor, books, toys, furniture, sporting goods, clothing, shoes, belts, purses and much more. Food will also be available.
Spring cleaning time? Make extra space at home and help Logan County animals too.
Donations of clean, gently used items may be dropped off each Wednesday and Saturday from 10 a.m. to 2 p.m., beginning May 7. Please enter through south gate. Electronics cannot be accepted.
---

San Jose UMC fish fry slated for March 21
SAN JOSE — The San Jose United Methodist Women and the men of the church are presenting their annual fish fry for missions on Friday, March 21. Serving will be from 4 till 7 p.m. in the Fellowship Hall.
Whole catfish are fried on the premises during the event. Other items on the menu are hash brown casserole, coleslaw, baked beans, homemade desserts and drinks. Chicken strips are also on the menu for children or adults who do not eat fish.
Tickets will be sold in advance by members of the church or at the door. Guests may dine in or carry out for the same price. Tickets are $9 for adults, $4 for children age 4-12, and children under 4 years eat free with a paid adult.
Proceeds benefit children and youth ministries such as Vacation Bible School, camping scholarships and the Bible Zone after-school ministry and meal.
The San Jose United Methodist Church is at 601 S. First St. in San Jose, six blocks south of U.S. 136 at the corner of Linden and First. San Jose is about 15 miles directly south of Pekin on Towerline Road; or follow Illinois Route 29 to U.S. 136, then go east two miles to San Jose; or go about 10 miles west of Interstate 155 on U.S. 136.
For advance tickets or more information, call the church at 309-247-3232 or Jim Eeten at 309-247-3485.
---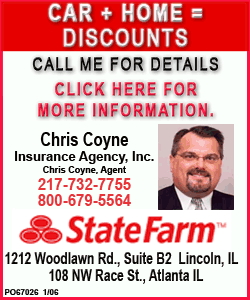 ---

Two benefits in March for infant Lyndie Jones

At the end of this month, there will be two separate benefits to assist Lyndie Jones and her family.

On March 22, the second annual memorial Run for Annabelle will take place, beginning at 8:30 a.m. in Mount Pulaski. This year the proceeds of that run will be given to the Jones family to assist with the medical expenses of their daughter.

On March 29, there will be a dinner benefit at the Lincoln Knights of Columbus Hall. Doors will open at 4 p.m. and dinner will be served at 5. There will be a silent auction from 4:30 to 7, and live music will begin at 8.

Lyndie Jones is the daughter of Katie Alsup and Justin Jones of Mount Pulaski. She was born June 20, 2013 — 17 weeks premature. She weighed 1 pound, 5 ounces at birth and has been in the St. John's Neonatal Intensive Care Unit since birth. To date she has had three surgeries, including heart surgery, a tracheotomy and a feeding tube installation. When Lyndie does get to come home, she will require in-home nursing care.

The Run for Annabelle was first held to assist the family of Annabelle Phillips. Annabelle was born in November of 2012 and soon after diagnosed with a malignant brain tumor. For Annabelle, there was no solution to her sickness and she died in January of 2013. The run was to assist her parents, Darin and Amy Phillips, with the expenses they incurred.

This year the Phillips couple asked that the Run for Annabelle continue as a means of paying forward the generosity that was shown them by the community. They are hopeful that the community will come out and support the family of Lyndie in the same loving way they did a year ago in memory of Annabelle.
---

City of Mount Pulaski announces pickup dates for landscape waste
MOUNT PULASKI — The city of Mount Pulaski has announced this year's schedule for landscape waste pickup. Pickup days will be as follows: April 7, May 5, June 2, July 7, Aug. 4, Sept. 8, Oct. 6, Nov. 3 and Dec. 1.
---

Oasis Lunch & Learn March 18
Area Agency on Aging for Lincolnland announces program for family caregivers
SPRINGFIELD — The Area Agency on Aging for Lincolnland has scheduled a Lunch and Learn program for informal caregivers of older adults and for grandparents and other relatives raising children. It will be at the Oasis Center at St. John United Church of Christ, 204 Seventh St. in Lincoln, on Tuesday, March 18, at noon.
Christa McCarthy, career agent with Transamerica, will present "46 Decisions You Need to Know When a Loved One Dies."
Lunch will be provided, and preregistration is required. There is no charge to attend.
This presentation is part of a series of Lunch and Learn programs. The goal of the series is to provide practical information that will help caregivers continue to provide quality care to others while maintaining balance in their own lives.
Informal caregivers are those unpaid individuals such as family members, friends and neighbors who provide assistance to someone who is to some degree incapacitated and in need of help with tasks such as grocery shopping, bill paying, cooking, or personal care. Grandparents or other relatives raising grandchildren are those who have accepted primary responsibility for raising one or more children through age 18.
To register or learn more about the Lunch and Learn series, contact the Area Agency on Aging for Lincolnland at 217-787-9234 or 800-252-2918.
---