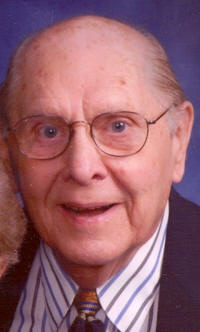 James Strauss
[March 20, 2014] LINCOLN — Dr. James D. Strauss, 84, died Wednesday, March 19, 2014, at 3 p.m. at The Christian Village.
(Below is a copy of the obituary from the funeral home.)
___
LINCOLN-Dr. James D. Strauss, 84, passed from this life in the arms of Jesus on Wednesday, March 19, 2014 at 3:00 p.m. at the Christian Village in Lincoln, IL.
He was the second son of Ernest and Cleo Strauss, born on July 3, 1929 in Herrin, IL.
Dr. Strauss is survived by his wife of 60 years, Jewel; daughters: Joye (Tom) Smith of Ashley, IL and Jeaneen (Keith) Ray of Lincoln, IL. There are three granddaughters, Ashleigh (Jason) Mauhar of Lincoln, Allyson (Kent) Leesman of Hartsburg and Abigale Ray (fiancé, Nate Wake) of Lincoln. Also surviving are three great granddaughters, Arrington Jade and Addisynn Paige Mauhar and Avia Klaire Leesman; a sister-in-law Janet Thompson of Phoenix, AZ, a niece Rhonda (Joe) Allen of Decatur and nephew Randall (Barbara) Strauss of Clearwater, FL as well as many other nieces and nephews. James was preceded in death by his parents and his brother Robert.
Dr. Strauss had a great love for his family, friends and his many students. Besides reading and writing, in the past, he loved gardening and decorating his home.
In lieu of flowers, memorial donations are requested to be given to The Strauss Institute of Lincoln Christian University or to the Abraham Lincoln Memorial Hospital Cardiac Rehab Department.
Thanks to all who cared for Dr. Strauss in so many ways, especially to everyone at the Christian Village.
Dr. James D. Strauss served as professor of theology and philosophy at Lincoln Christian Seminary from 1967-1994. He has been described as the "Einstein" of the Restoration Movement. For years, his intellectual capacity and wide academic interest amazed both his students and his colleagues.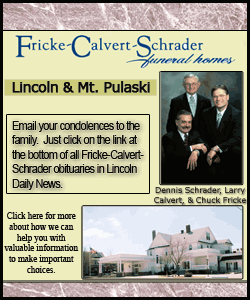 He had an insatiable appetite for things concerning the word and world of God. He wrote seven books, studied at ten different graduate institutions in five countries, held four advanced degrees, and taught courses in everything from economics to science, and during his teaching career spent nearly every weekend on the road preaching and teaching in churches and conventions across the country.
Dr. Strauss graduated from Butler University and Christian Theological Seminary in Indianapolis (B.A, M.A., M. Div.) and the Chicago Graduate School of Theology (Th.M.). He received a Doctorate of Ministry in 1975 from Eden Theological Seminary in St. Louis, where he majored in contemporary theology. He studied with the late Francis Schaeffer in Switzerland and took additional work at the University of Strasbourg in France; at Tubingen University in West Germany; at the University of Chicago Divinity School; and at the Institute of Christian Studies in Toronto.
Dr. Strauss has written extensively, including commentaries on Revelation, Job, and the Johannine Letters, as well as Biblical treatment of the doctrine of grace (Grace in an Achievement Culture). His articles have been published in such standard reference works as Carl F. H. Henry's Dictionary of Christian Ethics, and Clark Pinnock's Grace Unlimited.
Those who knew Professor Strauss understand that his mental energies were always directed toward fulfilling the mission of Christ throughout the world. As a result, he not only molded the academic minds, but the missionary hearts of thousands as he discipled a generation of influential leaders for Kingdom work.
Services will be conducted by Fricke-Calvert-Schrader Funeral Home at the Hargrove Chapel on the Lincoln Christian University campus. Visitation will be Sunday, March 23 from 2:00 to 5:00 p.m. and from 10:00 to 11:00 a.m. on Monday, March 24, at the Hargrove Chapel with The celebration of life following at 11:00 a.m. officiated by Dr. Wayne Shaw and Dr. Robert Kurka.