Send a link to a friend Share
March 2014
---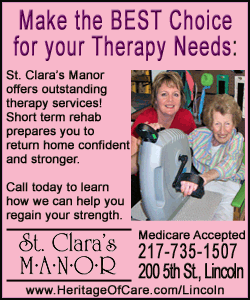 Saturday, March 22
Pancake and sausage breakfast
SPONSOR: West Lincoln-Broadwell PTO
WHO: Public
DETAILS: In addition to the breakfast, the fundraiser will include a basket raffle and silent auction. Kids under 3 eat free. All proceeds from the breakfast and raffle will be used to help fund education technology equipment, Field Day, and other projects and activities.
WHERE: West Lincoln-Broadwell School
WHEN: 7 am-noon
Mower clinic
SPONSOR: Lincoln Jaycees
WHO: Public
DETAILS: (See article.)
WHERE: Lincoln Jaycees Center, 325 S. Chicago St.
WHEN: Drop off mowers 9-11 am. Pick up mowers 2-4 pm.
Polar Plunge
SPONSOR: Special Olympics Illinois
WHO: Registered participants
DETAILS: (See article.) (See publicity.)
WHERE: Plunge at Lincoln Lakes. Registration and after-party at Lincoln Knights of Columbus.
WHEN: Registration at 10 am. Plunge at noon.
Sunday, March 23
Spring barbecue
SPONSOR: Boy Scout Troop 102
WHO: Public
DETAILS: (See publicity.)
WHERE: Knights of Columbus Hall, 217 Limit St.
WHEN: 10:30 am-2 pm
American Legion birthday party
SPONSOR: American Legion Post 263
WHO: Members of American Legion Post 263, American Legion Auxiliary Unit 263 and Sons of the American Legion Squadron 263
DETAILS: (See article.)
WHERE: 1740 Fifth St.
WHEN: 5 pm
Monday, March 24
Ready Readers
SPONSOR: Lincoln Public Library, Youth Services Department
WHO: Children ages 5-7
DETAILS: Story time. Registration required for accurate planning. Call 732-5732.
WHERE: Lincoln Public Library Annex
WHEN: 3:30 pm
Relay For Life meetings
SPONSOR: Relay For Life of Logan County
WHO: Committee and team members
DETAILS: (See article.)
WHERE: Lincoln Christian Church
WHEN: Committee meeting at 6 pm, team meeting at 7 pm
Tuesday, March 25
Blood pressure screenings
SPONSOR: Abraham Lincoln Memorial Hospital
WHO: Public
DETAILS: Free blood pressure screenings are available every Tuesday.
WHERE: Wombacher Room at ALMH, 200 Stahlhut Drive
WHEN: 9 am-noon
Little Listener Lapsit
SPONSOR: Lincoln Public Library, Youth Services Department
WHO: Children 6 months - 2 years
DETAILS: Story time. Registration required for accurate planning. Call 732-5732.
WHERE: Lincoln Public Library Annex
WHEN: 10 am
Book Buddies
SPONSOR: Lincoln Public Library, Youth Services Department
WHO: 3- and 4-year-olds; also 5-year-olds not in kindergarten
DETAILS: Story time. Registration required for accurate planning. Call 732-5732.
WHERE: Lincoln Public Library Annex
WHEN: 10 am
Weather spotters training
SPONSOR: Logan County Emergency Management Agency
WHO: By registration
DETAILS: Class taught by National Weather Service, Lincoln
(See publicity.)
WHERE: Lincoln Christian Church Fellowship Center, 204 N. McLean
WHEN: 6:30-8:30 pm
Logan County Herb Guild meeting
SPONSOR: Logan County Herb Guild
DETAILS: Speaker: Molly Gleason on the Illinois Stewardship Alliance
(See article.)
WHERE: Faith Lutheran Church, 2320 N. Kickapoo
WHEN: 7 pm
Wednesday, March 26
Get Covered America enrollment event
SPONSOR: Get Covered America, Lincoln College
WHO: Public
DETAILS: (See article.)
WHERE: Lincoln College, Davidson-Sheffer Gymnasium, North Ottawa Street
WHEN: 10 am-5 pm
Little Listener Lapsit
SPONSOR: Lincoln Public Library, Youth Services Department
WHO: Children 6 months - 2 years
DETAILS: Story time. Registration required for accurate planning. Call 732-5732.
WHERE: Lincoln Public Library Annex
WHEN: 10 am
Book Buddies
SPONSOR: Lincoln Public Library, Youth Services Department
WHO: 3- and 4-year-olds; also 5-year-olds not in kindergarten
DETAILS: Story time. Registration required for accurate planning. Call 732-5732.
WHERE: Lincoln Public Library Annex
WHEN: 10 am
Butterflies Kids' Sale
SPONSOR: Woven Together
WHO: Anyone needing spring clothes etc for their child.
DETAILS: Consignment sale fundraiser. Do your spring shopping while helping adoptive and foster care parents of Logan County.
http://butterfliesconsignment.blogspot.com/
WHERE: 113 N. Kickapoo
WHEN: 10 am-7 pm
(Continues through March 29)
Lincoln Rotary Club meeting
SPONSOR: Lincoln Rotary Club
WHO: Rotary members
DETAILS: Weekly meeting
WHERE: Lincoln American Legion, 1740 Fifth St.
WHEN: Noon
Breastfeeding support group
SPONSOR: Abraham Lincoln Memorial Hospital
WHO: New mothers
DETAILS: Breastfeeding support group meets weekly. Participants weigh their babies and have an opportunity to share stories and ask questions of a certified lactation consultant. Bring your lunch.
http://www.almh.org/About-ALMH/News/NewsDetail.aspx?id=306
WHERE: Steinfort B at ALMH, 200 Stahlhut Drive
WHEN: Noon-1:30 pm
Thursday, March 27
Ag Scholarship Breakfast
SPONSOR: Lincoln/Logan County Chamber of Commerce
DETAILS: (See article.) (See publicity.)
WHERE: Lincoln Christian University, Laughlin Center
WHEN: 7 am
Butterflies Kids' Sale
SPONSOR: Woven Together
WHO: Anyone needing spring clothes etc for their child.
DETAILS: Consignment sale fundraiser. Do your spring shopping while helping adoptive and foster care parents of Logan County.
http://butterfliesconsignment.blogspot.com/
WHERE: 113 N. Kickapoo
WHEN: 10 am-7 pm
(March 26-29 sale)
Mount Pulaski Rotary lunch
SPONSOR: Mount Pulaski Rotary Club
WHO: Approved, dues-paying members
DETAILS: Weekly lunch
(More information)
WHERE: Buff's Restaurant on the Mount Pulaski square
WHEN: Noon-1 pm
Art and craft class
SPONSOR: Lincoln Public Library, Youth Services Department
WHO: Children 8-12 years old
DETAILS: Registration required one week prior to each class for accurate planning. Call 732-5732.
WHERE: Lincoln Public Library Annex
WHEN: 3:30 pm
Friday, March 28
Butterflies Kids' Sale
SPONSOR: Woven Together
WHO: Anyone needing spring clothes etc for their child.
DETAILS: Consignment sale fundraiser. Do your spring shopping while helping adoptive and foster care parents of Logan County.
http://butterfliesconsignment.blogspot.com/
WHERE: 113 N. Kickapoo
WHEN: 10 am-7 pm
(March 26-29 sale)
Fish fry dinner
SPONSOR: Knights of Columbus
WHO: Public
DETAILS: K of C Lenten fish fry dinners every Friday until April 18. Choice of catfish or walleye served with baked potato, french fries, baked beans, coleslaw, and bread and butter.
WHERE: K of C ballroom, 217 Limit St.
WHEN: 5:30-7 pm
Saturday, March 29
Butterflies Kids' Sale
SPONSOR: Woven Together
WHO: Anyone needing spring clothes etc for their child.
DETAILS: Consignment sale fundraiser. Do your spring shopping while helping adoptive and foster care parents of Logan County.
http://butterfliesconsignment.blogspot.com/
WHERE: 113 N. Kickapoo
WHEN: 8 am-1 pm
(Last day of March 26-29 sale)
Community Health Fair
SPONSORS: Lincoln Park District and Logan County Department of Public Health
WHO: Public
DETAILS: Theme: "5 2 1 0 – Be a Healthy Hero"
(See article.) (See another article.) (See recycling information.)
WHERE: Lincoln Park District, 1400 Primm Road
WHEN: 9 am-1 pm
Blood drive
SPONSOR: Logan County Department of Public Health and Lincoln Park District
WHO: Open to the public
DETAILS: Central Illinois Community Blood Center blood drive during the Community Health Fair. For more information or to make an appointment, call 1-866-GIVE-BLD (1-866-448-3253) or schedule an appointment online using sponsor code 60171 at www.bloodcenterimpact.org. Walk-ins are welcome. Bring donor ID or a photo ID.
WHERE: Lincoln Park District, 1400 Primm Road
WHEN: 9 am-noon
Spring concert
SPONSOR: Lincoln Area Music Society
WHO: Public
DETAILS: Lincoln Area Music Society Chorale and Orchestra concert
(See article.) (See publicity.)
WHERE: Lincoln Community High School auditorium
(Also presented on Sunday, March 30)
WHEN: 7 pm
Sunday, March 30
Spring concert
SPONSOR: Lincoln Area Music Society
WHO: Public
DETAILS: Lincoln Area Music Society Chorale and Orchestra concert
(See article.) (See publicity.)
WHERE: Lincoln Community High School auditorium
(Also presented on Saturday, March 29)
WHEN: 2 pm
Monday, March 31
Ready Readers
SPONSOR: Lincoln Public Library, Youth Services Department
WHO: Children ages 5-7
DETAILS: Story time. Registration required for accurate planning. Call 732-5732.
WHERE: Lincoln Public Library Annex
WHEN: 3:30 pm