Relay For Life to have booth at Community Health Fair
Send a link to a friend Share
[March 21, 2014] Relay For Life will have an information booth at the Community Health Fair on March 29, beginning at 9 a.m. Learn about cancer signs, treatments and more.
This is also a prime time for survivors to register. Note that if you are a survivor, you have to register anew this year before invitations for the Survivor Dinner and a survivor shirt and pin can be ordered for you.

Anyone who has not signed up to be on a Relay For Life team or wants to start a team can get that information at the health fair also.

Luminarias will be available for $10.

This year the Relay For Life in Logan County will take place July 25-26 on the Lincoln College campus. "Cooking Up A Cure For Cancer" is the theme, and for survivors that is a cause for celebrating — they can claim "one more birthday!" Those who have experienced the fright of hearing "You have cancer" from their doctor are now turning that into a fight for getting to celebrate another birthday, and many have just been given that call to fight as recently as this month.

The Relay For Life is more than a walk for funds — it is a life-support system. The efforts of the teams through the American Cancer Society and the supporters in Logan County are a support system all year. Rides are provided to treatments or other appointments. There are donations of hairpieces and wigs, help with medications, and always the listening ear for the lonely phone call or someone to give a hug or pat on the shoulder.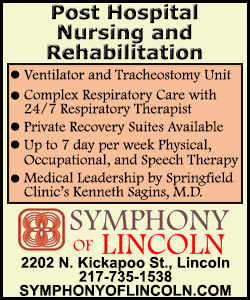 On the night of the Relay For Life, when the luminarias are lit at 9 in total silence, the track is full again in the glow of the light in each bag, signifying and bringing to remembrance with each step the life of one who is celebrating another year, another birthday, but also remembering the fight given by those whose names are lit in memory — and we remember so many of all ages in family, friends, neighbors or co-workers who have touched our lives. This year caregivers and supporters can also be remembered on the luminaria bags, which can be bought until 9 on the Friday night of the Relay For Life.
[Text from file received from Relay For Life of Logan County]