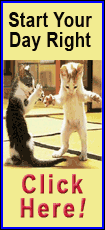 Rayvonte Rice had a huge night and led the way for the Illini, pouring in 28 points.

The Illini were supposed to host that game and virtually all games in their pod (the higher No. 1 seed had already been eliminated) but are not able to because the State Farm Center is under heavy renovation.

The LDN crew was not able to be on hand for this one because of everything going on around here. However, former Lincoln resident Josh Winans served as our East Coast correspondent and sent back a photo. Way to get the big "W," Josh!

[By JEFF MAYFIELD]

Respond to the writer at jeffqmay@gmail.com.