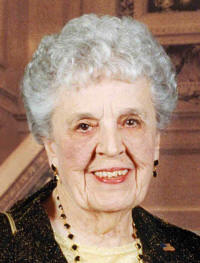 Judith Blemler
[March 25, 2014] PENSACOLA, Fla. — Judith Jane Read Blemler, 94, died Thursday, March 20, 2014, at her home in Pensacola, Fla., where she had lived for the past 29 years.
(Below is a copy of the obituary from the funeral home.)
___
Pensacola- Judith Jane (Read) Blemler, passed away Thursday, March 20, 2014 at her home in Pensacola, FL, surrounded by loving cousins, Janet Zollars, Sonjo Cronson, and her two loyal caregivers, where she has resided for the past 29 years.
Judy was born February 4, 1920 to parents Delia (Franz) and Holton Read in Lincoln, IL. She graduated from Lincoln Community High School, Lincoln, IL, and was Valedictorian of her senior class. She married Martin Tisckos in Springfield, IL in 1941, and together they started and operated the well known Tisckos Furniture Barn located in Springfield, IL, for many years. She later married Harold Blemler in Springfield, IL. Judy was manager of various departments in the Sears Roebuck Store, located in Springfield, IL, and until her death corresponded with her Sears co-worker friends.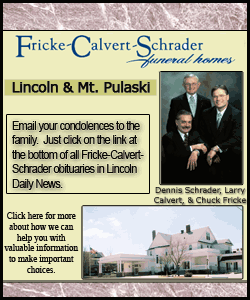 Upon her retirement in 1985 from Sears, she moved to Pensacola, FL, where she resided until her death. She enjoyed her retirement years by joining many of the wonderful senior clubs, the Golden Agers, and particularly the Over 55 Club, where she was a regular dancing senior at the weekly dances. She also enjoyed her many trip tours throughout the United States, amounting to an impressive vast collection of photographs. Only when her eyesight began to fail did she sadly have to give up her dance club attendance as well as traveling. Judy was an avid crossword puzzle solver, enjoyed reading and playing pinochle.
She will be missed by her cousins in Pensacola and Illinois. As well as her devoted friend Jlynn Firmin and neighbor Dorothy Reynolds, who both cared for her so faithfully before and during her illness.
Her family wishes to thank not only her two caregivers, but Judy Hare, who provided transportation for
Judy, especially the weekly appointments to the D'Orr's Beauty Salon, where she rallied seeing her friends. A very special thanks to the outstanding Hospice staff, namely Doug Lance, Lynn, Barbara, Joy, and Evelyn, who provided comfort and care during her last days.
Visitation will be held 2-4 pm Monday, March 24, 2014 at Harper-Morris Memorial Chapel. Fricke-Calvert-Schrader Funeral Home in Lincoln, IL is handling the graveside service. Graveside service will be Friday March 28, 2014 at 2:00 p.m. at Kline Cemetery in Broadwell, IL, with Pastor Mark Peters of Faith Lutheran Church officiating.