[March 24, 2014]
Send a link to a friend Share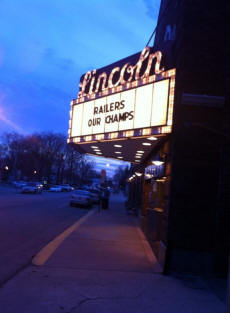 The high school activity buses and one full-size bus carried the team and the cheerleaders. Getting off the interstate, they pulled into the Steak 'n Shake and became part of a hero's parade.
The buses were then accompanied to the high school by fire trucks representing the city of Lincoln, Lincoln Rural Fire, New-Holland Middletown, Hartsburg-Emden and Patrick Doolin in his fire truck. Also in the parade were the Lincoln Police Department, Logan County Paramedics, a semi truck and an untold number cars, vans, pickup trucks and one RV.
The parade continued to gain momentum as more cars joined in and followed behind as the parade passed through town.
Before they joined the parade, honking of horns could be heard along the sideline, along with people leaning out of their cars, shouting and clapping. Those in parking lots waved their arms or "Go Railer" banners. As the group passed through the heart of the city, the marquee at Lincoln Theater 4 delivered the message "Railers Our Champs."
Pictures by Debbie Olden and Nila Smith with marquee picture provided by Robyn Yarcho