Powderhook software aims to help hunters, anglers

Send a link to a friend Share
[March 29, 2014] LINCOLN, Neb. — Powderhook, a free Web and mobile service that connects hunters and anglers with places to hunt and fish, launched Feb. 12 in all 50 states. Illinois has 1,559 public places to hunt and fish and over 834,000 acres currently on the company's website.
"This is all about making it easier for people to experience the outdoors," says Eric Dinger, Powderhook CEO. "A lot of what we're doing is going to be a grass-roots effort."

Powderhook will connect sportsmen (and women) with opportunities including leases, permissions, seats, rentals and charters. Sellers of hunting and fishing spots will create listings using Powderhook.com, and buyers can search or request additional information on a particular spot. Public data is being collected by working with state wildlife divisions in combination with other proprietary sourcing methods.

Dinger likens the marketplace concept to Airbnb, Expedia or VRBO, popular websites that connect people looking for a place to stay while traveling.

The idea for Powderhook grew out of personal experience, Dinger says. A native of Redfield, S.D., Dinger grew up hunting and fishing on his grandfather's land near the Sand Lake Refuge outside of Hecla, S.D. After leaving to go to high school in Luverne, Minn., and moving to Lincoln, Neb., for college, Dinger says it's been harder to find places nearby to hunt and fish.

Even though recreational land exists in nearly every county in the United States, many of the 14 million hunters and 33 million anglers nationally face similar hurdles, Dinger says.

"They can ask someone they know, tag along on someone else's trip, navigate confusing governmental websites, hire an attorney to negotiate a lease or be willing to approach a farmhouse to ask permission," he says.

Powderhook will help eliminate these obstacles by aggregating public and private inventories of places to hunt and fish from coast to coast. The privately held, Lincoln, Neb.-based company has proprietary search, mapping and transaction processes that will make securing an outdoor opportunity quick and easy.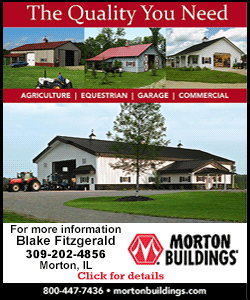 By focusing on their mission of "access for all" and truly being collaborative with federal, state and local programs, Dinger sees big opportunities for his new company.
According to U.S. Fish and Wildlife data, Americans have spent over $90 billion annually in the U.S. on hunting and fishing, taking over 700 million trips and spending $10.1 billion on fees for hunting and fishing access.
"Not everyone can pay to hunt or fish, and they shouldn't have to. Yet commercial hunting is a viable path for some. We simply want to provide people with all of the options," Dinger says.
Other members of Powderhook's leadership team:
Randy Terbush, Powderhook's chief technology officer, is one of the eight original co-founders of the Apache Software Foundation, which pioneered the server technology that powers about 65 percent of the Internet. Terbush also served five years as a CTO at ADP.

Heath Roehr, vice president of product development, worked for NASA and built flight software for a fighter jet at Cessna before joining Powderhook.
[Text from file received from Powderhook]