French watchdog calls for more transparent SFR bid talks
Send a link to a friend Share
[March 29, 2014] PARIS (Reuters) — French market regulator AMF has asked Vivendi, cable firm Numericable, its parent Altice and rival bidder Bouygues for more transparency in their talks over a takeover of Vivendi's telecom unit SFR.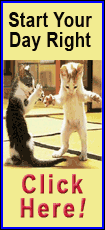 The bidding war for SFR, France's second-largest mobile operator, has been raging for over a month. It will reshape the competitive landscape of Europe's third-biggest telecoms market after two years of price war sparked by the arrival of low-cost upstart Iliad's Free Mobile service.

Vivendi has already begun exclusive talks with Numericable that are due to last until April 4, but Bouygues hit back last week with an improved offer for SFR. Sources familiar with the talks told Reuters that Vivendi would examine this new offer while respecting the exclusivity period.

Although SFR is not listed on the Paris stock exchange, its parent Vivendi and the bidding companies are listed, which obliges them to provide the market with "exact, precise and sincere" information, AMF said in a statement on Friday.
It reminded the parties they are liable to sanctions if they do not comply with market regulation. AMF has the power to investigate companies and fine them, but its probes are generally very lengthy and the penalties it can hand out are often criticized as too small to be dissuasive.

The head of AMF told Le Figaro newspaper the regulator had asked all four companies for details on the financial compensations planned in the event that their takeover talks on SFR failed, as well as on the conditions in which Vivendi could exit the capital of the future merged company.

"I understand that for the various players, giving information or not is part of a strategy. But we want to ensure that the market has full and precise information," AMF chief Gerard Rameix said in an interview on Le Figaro's website.
A spokesman for Bouygues, whose bid is backed by France's state fund CDC and has the outright support of firebrand Industry Minister Arnaud Montebourg, said the company was surprised by the AMF's comments.

Bouygues has commented on the talks several times — even calling journalists directly — and has repeatedly complained that Altice-Numericable are not showing their cards in the same way.

"Bouygues has regularly communicated on the content of its offers, in contrast with Altice-Numericable," the spokesman said.

A spokesman for Altice had no immediate comment to either AMF's comments or those of Bouygues.

A spokesman for Vivendi could not immediately be reached for comment.

(Reporting by Natalie Huet; additional reporting by Noelle Mennella; editing by Alexandria Sage and Sophie Walker)
[© 2014 Thomson Reuters. All rights reserved.]
Copyright 2014 Reuters. All rights reserved. This material may not be published, broadcast, rewritten or redistributed.