SocGen facing bribery lawsuit over Libyan deals: Financial Times
Send a link to a friend Share
[March 31, 2014] (Reuters) — The Libyan Investment Authority has accused France's second-biggest bank Societe Generale <SOGN.PA> of funneling bribes worth tens of millions of dollars to associates of Saif al-Islam, the son of former Libyan leader Muammar Gaddafi, the Financial Times reported late Sunday.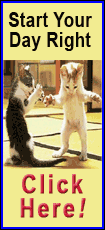 "Societe Generale contests the unfounded allegations in the Libyan Investment Authority's (LIA) complaint," a spokeswoman for the bank said in an emailed statement, without giving more details.

The newspaper said the LIA has filed a $1.5 billion lawsuit against the bank in London's High Court. (http://link.reuters.com/sur97v)

Acccording to the FT, the LIA alleges that SocGen paid at least $58 million to Leinada, a Panamanian-registered company, for advisory services related to $2.1 billion of derivative trades that the Libyan sovereign wealth fund entered into with SocGen between late 2007 and 2009.

The LIA's legal filing claims that Leinada did not have the expertise to advise or structure such deals, the newspaper reported.
The FT said that the LIA claims to have suffered heavy losses in the deals with SocGen, and is seeking to have the trades voided to recoup the money allegedly paid to Leinada and to be awarded damages for the alleged fraud.

"This claim, together with the one against Goldman Sachs that was initiated in January 2014, reflects the desire of the LIA's new board of directors to redress previous wrongs and seek the recovery of these substantial funds as it seeks to invest and generate wealth for the people of Libya," AbdulMagid Breish, chairman of the LIA told the FT.
He added that "the former Libyan regime left behind many challenges in its wake. The LIA is resolved to address these challenges, and to develop a new strategy for the future. The board has embarked on a short to medium-term transformation program to strengthen the LIA and to enhance its corporate governance in accordance with best practices, enabling the institution to invest wisely for the future."

(Reporting by Aashika Jain in Bangalore; editing by Eric Walsh)
[© 2014 Thomson Reuters. All rights reserved.]
Copyright 2014 Reuters. All rights reserved. This material may not be published, broadcast, rewritten or redistributed.