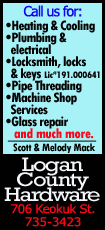 The clinic will take place at Piper Glen Golf Course, 7112 Piper Glen Drive, Springfield, and is sponsored by Memorial Rehab Services and Piper Glen Golf Course. Golf pro Dave Schofield will work with each participant at the driving range to improve his or her golf swing.

For those who need help with balance issues or other skills, Memorial Rehab Services employees will be there to provide assistance. Chairs also will be available.
"Our goal is to help people return to a previous leisure interest that promotes overall wellness," said Lisa Cline, recreational therapist for Memorial Rehab Services. "The golf clinic is designed to build confidence and introduce new or different playing techniques as needed. People find they are once again able to enjoy something they loved to do – just in a different way."

To make a reservation, contact Cline at (217) 788-3461 or cline.lisa@mhsil.com . For more information about Memorial Rehab Services, visit MemorialMedical.com .
[Text received; MICHAEL LEATHERS, Memorial Health Systems]