Midwest Central awarded $25,000 school safety grant
Send a link to a friend Share
[May 07, 2014] MANITO - Midwest Central CUSD 191 has been awarded $25,525 through a grant to increase school safety. The grant was funded through the Illinois Emergency Management Agency and will be used to increase student safety in district buildings. In anticipation of the grant, Midwest Central took steps to ensure they were in the best possible position to receive grant funds. The grant required an up-to-date crisis plan and National Incident Management Credentials. Midwest Central superintendent, Todd Hellrigel, organized a district crisis plan team that included city, county, and state officials. The team conducted threat assessments of each building and used the information to completely overhaul the district's crisis plan. High School assistant principal Rodney Norris took the lead role in this process and was responsible for the final outcome according to Hellrigel.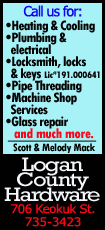 "This was a great process, we appreciate the input from our teachers, police chiefs, fire and EMS, and county sheriff's offices", commented Norris. "We also had our staff take the introductory incident command and National Incident Management (NIMS) classes to be completely compliant with the grant requirements," he added. After several meetings that included only district officials, the district held an all-day training that included Manito and Green Valley police chiefs, Mason and Tazewell County Sheriff's departments, Fire and EMS from Manito and Green Valley, and officials from the state board of education. The meeting concluded with an up to date template that has been informed by best practices in school safety.
According to Hellrigel, the updated crisis plan and pre-planning were key components in developing a plan to apply for the grant. "We already had the basic components of school safety met, so we're able to use these dollars to add some enhanced safety features for our students" said Hellrigel. The $25,525 grant also includes money for a new set of doors the district was considering replacing. According to Hellrigel, the district will be able to replace the doors which will cost almost $8,000 without using any district funds. "Our ultimate goal is to provide a safe learning environment for our students and having $25,525 to work with to meet that goal is a major benefit for our students and district," said Hellrigel.
[Text received; Todd Hellrigel, MIDWEST CENTRAL SCHOOL]