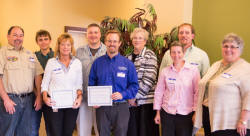 Integrity Data Awards $10,000 in Community Giving Program Grants
Send a link to a friend Share
[May 03, 2014] LINCOLN — Integrity Data in Lincoln has awarded a total of $10,000 in grant monies to not-for-profit organizations in the area. The funds, awarded from an Integrity Data employee giving fund, were distributed on Thursday, May 1, 2014 at a dessert reception honoring recipients.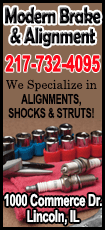 "I appreciate the passion for our local community that is imparted through our CEO, Patrick Doolin. Programs like Integrity Data's Community Giving causes me to feel like I am part of something truly important and meaningful." says Tom Franz, Product Manager at Integrity Data.
Integrity Data received a total of 24 applications from qualified, tax-exempt organizations serving the residents of Logan County. Applications were then evaluated and voted on by integrity Data's employees.

This year's grant recipients are:
Together For Lincoln will use the funds to purchase materials needed to complete needs-based projects in our community such as interior and exterior painting, basic electrical or plumbing repairs, yard clean-up, window washing, wheelchair ramp construction, and more.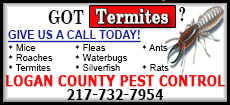 Boy Scouts Venture Crew will use the funds to purchase three highly durable portable GPS units to be used for the development of outdoor skills, navigation, merit badge completion (Hiking and Geocaching) and recreation.

Home Sweet Home Ministry will use the funds for "Jobs For Life" training in the community. Jobs for Life is a 16 session job preparation program that helps those in need find dignity and purpose through meaningful work.

Lincoln Junior High School will use the funds to help bring Marion Blumenthal Lazan, a Holocaust survivor who is a speaker and author of Four Perfect Pebbles, to Lincoln in October to speak at their school.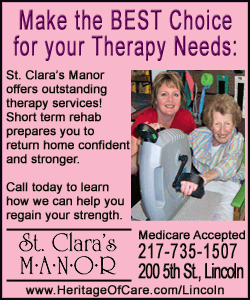 His Hands Ministry will use the funds to purchase a computer, set up all of their financial data in a "Quick Books" and to allow their director to receive coaching on a monthly basis over one year through 3DM, a training organization that works with Christian leaders.
Questions concerning Integrity Data's Community Giving Program or its procedures should be emailed to grants@integrity-data.com or call Integrity Data at 217-732-3737. You can view past recipients by visiting our website www.integrity-data.com/community-giving/.
[Text received from INTEGRITY DATA]
About Integrity Data
Integrity Data is a software development company located in Lincoln, IL. Since 1996, Integrity Data has built software solutions for customers across the globe, allowing them to extend the capabilities of their business software systems and increase their return on investment.

Integrity Data was founded with the following core values:
• Integrity and honesty in all relationships
• Passion for customers, partners, and technology
• Willingness to take on big challenges and see them through
• Commitment to excellence, results and quality to customers, partners and employees