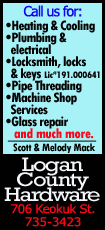 From garden hoses to hoes, rakes, shovels, weed whackers, edgers, trimmers and lawn mowers, having a nice-looking lawn takes a few tools. Throw some lawn furniture into the mix, and as a homeowner, you may find that your garage just isn't big enough for you to store your car and still be a successful gardener.

If this is the case, then it might be time to consider a separate storage facility. Garden storage is as varied as the gardener, with weatherproof trunks and cabinets that can be placed on the patio, prefabricated sheds that can be purchased and delivered intact, or custom-built pottery sheds that can be designed and built to complement the landscape and the home.

In addition to perusing the seed catalogs every spring, gardeners many times also enjoy leafing through the latest editions of the various home and garden magazines. In those publications, the settings are perfect, the plants are mature, and the lowly garden shed can be elevated to a place of class, comfort and relaxation as well as utility. But it is important to remember that what may look great in the book, may not fit into your landscape.

So, before you take the plunge and make that kind of cash investment, be sure you know what it is you need.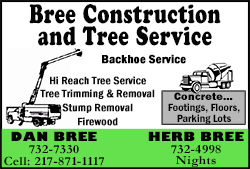 First, consider these two things: How much space do you need, and how much space do you have? In ratio, many times the larger lawn requires more tools, while a smaller space requires less equipment.
If you have a large lawn, flower gardens and vegetable gardens, then your list of equipment could include a riding mower, a push mower, a garden tiller, trimmers, hedge clippers, rakes, hoes and various other garden gadgets. These items can take up a lot of space, so a shed with a wide, drive-in door might be a good solution to your storage problems. On the other hand, if you need a large shed, how much lawn are you going to lose, and are you willing to make the sacrifice?
Most gardeners will tell you they have a favorite spot in their lawn that grows perfect plants year after year. They will oftentimes also be able to identify a place that is less than perfect due to poor drainage, lack of sun or too much exposure to the elements. If such a place exists in your yard, then that could be your best starting point for deciding if you have room for a shed.
Once you have figured out how much space you need and how much space you have, the next question then could be, what is your vision for this space?
For some, it is simply a place to put stuff, and there's nothing wrong with that. Prefabricated sheds could be a great answer for that gardener. Today, sheds come in a variety of shapes, styles and sizes, so choosing one that "fits" with your home and your landscape should be easily done.
When looking at a prefabricated building, be sure to consider how it is going to get onto your property. Do you have clear access to your backyard from a street or alley? Do you have a fence around your yard, and if so, is there a drive-thru gate? If the yard is fenced with a gate, then — unless you plan to take the fence down to get the shed in — the shed you buy may need to be dictated by the size of opening it can pass through.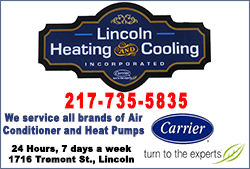 If this proves to be an impractical solution for you, then the final and perhaps best answer is to design one and either hire it built or build it yourself. A simple online search using the keywords "garden shed" will produce hundreds of illustrations of sheds. These include everything from simple utility designs to ultramodern "pod" designs and even some that are slightly quirky.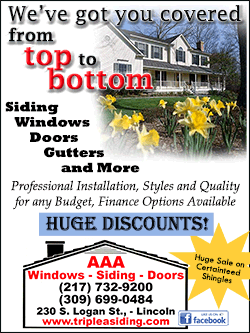 There are also examples of stick-built sheds and some that are built of stone, brick or even stucco. You can "shop" for the style you like, the doors you like, the windows you need, and can even create a shed with a nice little front porch for relaxing after a day in the garden.
For the do-it-yourselfer, a visit to The Family Handyman website will offer a variety of sheds as well as many other do-it-yourself projects, and the website provides free drawings of the sheds as well as a complete list of what materials would be needed in order to build it. You can print the list and take it to Alexander Lumber or your favorite lumber supply and get everything you need.
(http://www.familyhandyman.com/
sheds/2010-shed)
If you prefer to have the shed built for you, there are several great construction companies in Lincoln and Logan County, including Bennett Builders, Brad Matthews Construction, Roger Webster Construction and many more. These talented builders can take what you give them and turn it into exactly what you want.
Grab a drawing or blueprint off the Internet, or sketch it out yourself and let someone local do the work for you.
Finally, what is outside is going to be important to the overall look of your landscape, but you should also consider what you need inside. Knowing what you need inside depends on what you plan to do inside the shed.
Will you be potting plants? Do you need a workbench built into the wall? Will you be starting seeds? If so, do you want the building insulated? Do you need extra outlets for grow lights? Do you need overhead storage for lightweight items such as plastic pots, seed starter kits or even your garden hoses, rakes, hoes and shovels?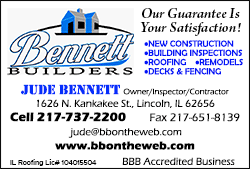 Do you have tools that need to be hung up for easy access? Would a wall of pegboard be a good idea? You might even want to consider if you'd prefer a separate room for your gasoline-powered equipment, such as mowers and tillers.
And finally, give consideration to a lockable cabinet for storage of hazardous chemicals. Your shed could very well become a favorite spot for kids and grandkids to play around, and no one wants to see harm come from exposure to chemicals.
So now that you have a few tips on how to get started, what's stopping you? Grab that mouse and start your search for the perfect garden shed for your perfect landscape!
[By NILA SMITH]