---

Logan County Arts & Crafts guild May meeting
The Logan County Arts & Crafts Guild is planning a visit to the Lincoln College new Museum on May 17 at 1 pm..
They will meet at the museum and go in as a group.

The museum is opened 9-4 am week days and 1-4 pm on Saturday. Closed on Sunday and evening except by special permission from Mr. Keller.
---

Lincoln Writers Club May meeting
Lincoln Writer's Club will meet Tuesday, May 13th at 6:30 p.m. in the Alumni Room of Lincoln College. Suggested topics are: Mother's Day, a time I put my foot in my mouth, or foods I love/hate. For more information, call 732-2723. All Welcome.
---

Logan County glass recycling program returns May 10
Habitat for Humanity Logan County will hold its monthly electronics recycling collection on Saturday, May 10, 2014 at the Habitat for Humanity warehouse located at 915 Woodlawn Road between the hours of 9 AM and noon. The collection is offered free of charge to the public. Habitat for Humanity Logan County continues to collect televisions for recycling. (Click here to continue)
---

Logan County glass recycling program returns May 10
Logan County residents will again have the opportunity to recycle glass containers through the cooperative efforts of the Lincoln Womanís Club, the Logan County Joint Solid Waste Agency, the Ardagh Group (formerly Verallia Saint-Gobain Containers) and the Logan County Fair Association. While glass collection is offered on a limited basis, it does have a positive impact in removing yet another item from the waste stream. Glass is not biodegradable; meaning it will not decompose over time. Glass can be recycled repeatedly. Since the programís inception in 2004, the glass-recycling program collected over 200 tons of glass locally. (Click here to continue)
---

Local post office food drive May 10
The Lincoln post office will once again conduct a postal carrier food drive. This year the drive will be on Saturday, May 10.
Those who wish to donate are asked to leave their bag or box of food by their mailbox. Carriers will pick up the donations as they do their mail delivery.
As a reminder, the food products donated should be nonperishable boxed or commercially canned products. Homemade goods, frozen foods or other items subject to quick spoilage should not be donated to this food drive, and no glass containers should be used.
Food collected will be distributed among local food pantries.
---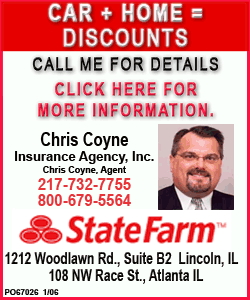 ---

Logan County Arts presents second annual LCHS exhibit
The opening reception for the second annual Lincoln Community High School exhibit at the Lincoln Art Institute will be on Thursday, May 8, from 5 to 8 p.m. The "Functional and Fine Art" exhibit will feature a variety of pieces made of fabric, metal and wood, along with paintings and drawings.
There is no admission charge. The show runs through May 28.
Teachers with students exhibiting in this year's show are Brenda Silano with fabrics, Arlyn Musselman in metals, Cheryl Spove in fine arts and Jason Hoffman with woodworking. Names of the students participating are not available at this time.
The Lincoln Art Institute is at 112 S. McLean St., on the northeast corner of the downtown square, next to the post office.
For more information, call Toby Prange, Lincoln Art Institute curator, at 217-651-8355.
---

Artist's talk and critique at Keest Center on May 12
As part of the effort of Logan County Arts to educate the public and create awareness of all types of visual arts in the community, there will be an artist's talk and critique at 7 p.m., Monday, May 12, at the Salvation Army Keest Center, 307 N. Kickapoo in Lincoln.
Brian K Simpson, life drawing instructor at the McLean County Arts Center, Bloomington, will present a talk, "Discussing Techniques of Life Drawing."
Simpson will show several of his own drawings and discuss them, critique LCA members' drawings as well as those of the general public, and give tips and techniques to help improve figure drawings.
Simpson left the academic world in 1984 after completing his graduate exhibition in photography at Illinois State University, then spent the next 20 years exploring life drawing while making a living as a bookseller ó he owns and operates Babbit's Books in Normal. He has been affiliated with the McLean County Arts Center for a number of years.
Admission will be charged at the door. People attending are asked to bring a few of their drawings to share with Simpson.
---