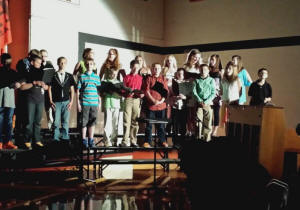 Students' Talents Shine at Hartsburg-Emden Fine Arts Festival

Send a link to a friend Share
[May 08, 2014] HARTSBURG - On May 2, 2014, Hartsburg-Emden Junior/Senior High School hosted the Hartsburg-Emden Fine Arts Festival. The event hosted in the high school gymnasium featured musical performances, artwork displays, dance routines, and voice improvisations by the many talented 5th - 12th grade students.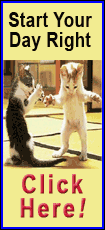 The darkened gym and period table decorations provided a jazz club atmosphere. Decorator Kim Escobedo, mother of performer Lillian Escobedo described the atmosphere as "very classy."

Attendees entering the school viewed various pieces of artwork by Alicia Clark, Erica Wolpert, Megan Neikirk, and Tyson Andrade. Artwork included paintings, drawings and nature photographs.

The audience was seated around the decorated tables or in the bleachers, and treated to performances by many talented students under the direction of band instructor Cody Sheldon and music instructor Rachel Jordan. The high school band opened, performing "Georgia on My Mind." Other instrumental performances by the 5th grade band, the 6th and 7th grade band, and the high school band included "Shadows in the House," "Power Rock," and "Eye of the Tiger."


The 5th grade chorus, Junior High School chorus, and High School choir sang the well-known and loved "Follow the Yellow Brick Road" and "Over the Rainbow," and more recent songs, "Do you Want to Build a Snowman?" and "Let it Go" from the movie "Frozen," and oldies "Sh-Boom" and "Day-O." The High School choir brought the evening to a close with the classic from "The Sound of Music," "So Long, Farewell."

The evening also featured various other highlights:
Small group ensembles presented various classical pieces with Olivia Garcia, Lily Escobedo and Zoi Dunse playing in a clarinet trio; Austin Hayes, Samantha Perschal, and Nathan McAfee playing in a trombone trio; Spencer Davis, Evan Rohlfs and Mayci Maaks playing in a trumpet trio; Anna Hayes, Lexi Barry and Tim Lingle playing in an alto saxophone trio.

Joe Garcia's piano solo was a medley of popular songs.

Madelyn Thomas and Dustin Woolard offered a vocal duet.

Madelyn Thomas sang an original composition with Jonathan Thomas accompanying on the guitar.

The speech team featured improvisational duets by Matthew Nowatney and Spencer Davis, Payge McCree and Baylee Baker, Seth Evans and Zach Zimmerman, and Lily Escobedo and Zoi Dunse.

Seniors Alicia Clark and Megan Neikirk were recognized for eight years of participation in the music programs.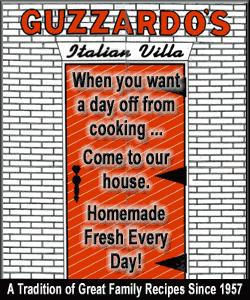 Music teachers Cody Sheldon and Rachel Jordan lauded the students for all their hard work this year, commenting that in a small school that has just a handful of students in the band and choruses, the students have to work extra hard. For instance, Dustin Woolard said that he and Madelyn Thomas experienced technical difficulties with the original song they practiced, so they performed a song they only had two days to practice and said that though he was initially nervous, he gained comfort and felt that they "hit it out of the ballpark."
District principal Terry Wisniewski, observing that this year was the first time for the Fine Arts Festival, noted that "the set up and variety is very good." He also said, "Mr. Sheldon is doing a great job in his first year. He and Rachel Jordan make a great team."
Janell Woolard, mother of Hartem junior Dustin Woolard said, "When I first approached Mr. Cody Sheldon with this idea in the Fall, it was for the purpose to truly give our youngsters in the Fine Arts a great venue to showcase their incredible talents. And I believe that is exactly what we did on Friday night. We gave them the spotlight, literally, and they are most deserving. We wanted a "lounge feel" for the atmosphere so people could sit back and truly enjoy it. We wanted this to be more than a spring concert, we wanted this to be a complete experience."

Doris Last, a foster grandparent for the school who came out to support the musical program said she thought it was "excellent," saying "it shows what a small school with many talented performers can do."

Carrie Nowatney, director of last year's plays and mother of performer Matthew Nowatney, echoed these sentiments by saying, "I am extremely pleased with the novel approach that was taken to present the Hartem Fine Arts program. You could tell the students were enjoying what they were doing, and the variety of art forms presented was very refreshing. Hartem is best known for its FFA and sports programs, but our students also possess amazing musical, artistic and dramatic talents. It was wonderful to see our school providing a 'platform' for the arts and the many talents of our students to be displayed."

[By ANGELA REINERS]