Illinois State Treasurer Dan Rutherfordís I-Cash Program to visit Lincoln
Does the state have your money?
Send a link to a friend Share
[May 09, 2014] SPRINGFIELD Ė Illinois State Treasurer Dan Rutherford is encouraging Central Illinois residents to stop by his I-Cash table at any of the five Town and Country Bank sites throughout the region.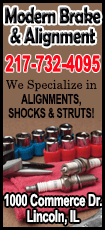 In Lincoln the event will be held May 13 at the Town and Country Bank at 303 Pulaski Street in Lincoln.

Treasurer Rutherford will not be in attendance, but staff will be available from 10 a.m. Ė 2 p.m. to help anyone wishing to find out if the state is holding any of their money or unclaimed property. In fact, 169,179 owners in the four counties where the I-Cash events will be held have $36,530,780 in unclaimed property (Adams, Logan, Macon and Sangamon counties). This is according to the January list of unclaimed property holders.

The rebranding of the I-Cash program has dramatically increased the number of searches and claims filed. In the first month after the launch of I-Cash, the number of web visits increased by 140 percent, and the number of claims increased by 322 percent as compared to the month prior.

The treasurerís Unclaimed Property Divisionís costs, including staff, computers and travel, are paid for through the Unclaimed Property Trust Fund, and not by tax dollars.

The Unclaimed Property Division has more than $1.8 billion in cash, plus contents from Illinois safe deposit boxes that have been inactive for at least five years. During 2013, the program returned more than $139 million in cash and other assets to their rightful owners, representing a 69 percent increase over 2010. Treasurer Rutherford took office in January 2011.
To find out if you have unclaimed property through I-Cash, you can visit the treasurerís website at www.treasurer.il.gov and follow the I-Cash link. You can also contact the Unclaimed Property Division by calling 217-785-6998 or emailing info@Icash.Illinois.gov although searches cannot be completed by telephone.
[Text received; JULIA FREVERT, TOWN AND COUNTRY BANK]