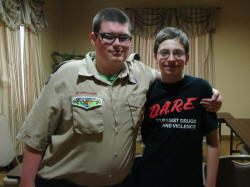 Daniel Hawkins and Bryce Watkins
ScoutSweep clean up near Madigan Park earns Life Scout for Hawkins
Send a link to a friend Share
[May 10, 2014] LINCOLN — Lincoln Boy Scout Troop 4111 held a ScoutSweep on Saturday, April 26 along a stretch of road south of Lincoln. A ScoutSweep is a Boy Scout community service project to clean up an area of the community. The local troop chose the road that goes from the entrance of Madigan Park to the curve that turns toward the prisons, an area approximately 300 feet long.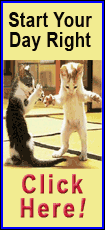 The area that needed the cleanup was discovered by Scout Master Jason Schafer. "I was driving by one day and saw this stretch of road on 1010th Street that had trash lining the road," he said.
He then turned the ScoutSweep project over to Daniel Hawkins, age 14, who is the senior patrol leader of the troop. Daniel is currently working on his 'Life Scout' requirements, one of which is six hours of community service. The Life Scout level in the Boy Scouts is just below that of Eagle Scout.
With the help of Assistant Senior Patrol Leader Bryce Watkins, age 12, Hawkins got busy with the planning phase of the project. He enlisted members of his troop and their parents to participate in the project.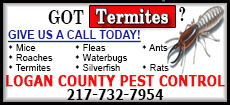 Hawkins then scoured the community for businesses that would help sponsor the cleanup. McDonalds, Bonanza, Jimmy Johns, Subway, Kroger, and Hardees stepped forward with offers of food for the participants. Charlie Lee of the Lincoln IGA contributed to the event so that the Scouts could purchase trash bags. Beck's donated gift cards so that the adults transporting the scouts to the site could be reimbursed with fuel. Once the planning phase was successfully completed, it was time to make it happen.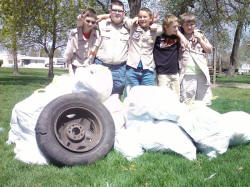 Fifteen scouts, leaders, and parents gathered for the event in Latham Park on the morning of April 26 and drove to the site. After two hours of steady work, the group had gathered 15 bags of trash. "We made a good dent in the problem," said Hawkins. The largest item was a wheel with the tire still attached. Many of the items were fast food cups.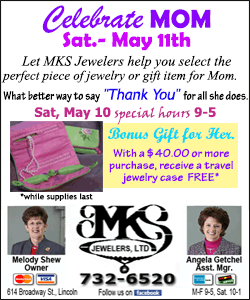 With the end of the event, Patrick Doolin invited the scouts for a ride on his fire engine.
While Hawkins needed just six hours toward his community service project, he ended with ten hours. He went above and beyond the requirements. The total project garnered 62.5 hours total service for the entire Scout troop.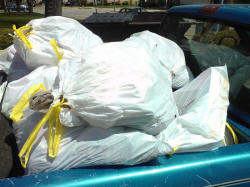 Scout Troop 4111 is chartered through Lincoln's First Presbyterian Church. Scout Master Schafer pointed out that the Boy Scouts of America are a youth lead with adult supervision group. Daniel Hawkins said, "This was a very satisfying project for the troop and me. We got a chance to serve the community." Hawkins has a goal of achieving the level of Eagle Scout within the next year.
[By CURT FOX]