Kella and Lesa have always wanted to do this type of cafe together.

The decor is of a soft, opulent, yet cottage-style design, with table tops in decoupage of old-time newspaper articles and photos of Mount Pulaski and vicinity. The complete coffee bar features both hot and cold drinks, homemade pastries and specialty teas. All the food and pastries are made on-site such as the much-heard about raspberry-cheesecake latte, coconut, caramel and praline cream pie and her Aunt K's chocolate chip cookies.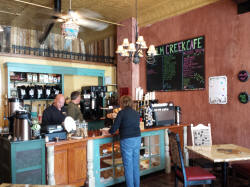 The counter is a lacquered cherry top that came from a tree toppled by a tornado several years ago and milled to her specifications. The front sides of the counter are of refurbished and lacquered vintage doors that serve as windows to her pastries.
Calm = Chester, Aetna, Laenna, and Mount Pulaski Townships, an acronym illustrating in a word Kella's salute for the Mount Pulaski and surrounding communities that she has always known and loved.

Free wireless internet will be available.
Hours: Tues thru Sat, 6 am - 4 pm.
Reservations for special events will be available.
[Text and photos by PHIL BERTONI]