Visitation: 4-7:00 p.m. on Tuesday at the funeral home
Service: 10:00 a.m. on Wednesday at St. John United Church of Christ
Funeral home: Fricke-Calvert-Schrader, Lincoln
Obituary
Blanche Kurtz, 87, of Lincoln passed away at 3:00 p.m. Friday, May 9, 2014 at her home surrounded by her loving family.

Blanche was born November 27, 1926 in New Holland, the daughter of Herman and Mabel Raber Gehrke. She married Donald Kurtz October 6, 1946 in Lincoln. He survives in Lincoln.

Blanche is survived also by her children: Dennis (Brenda) Kurtz; Kevin (Angela) Kurtz; Karen (Ron) Pecoraro; and Karol Kurtz, all of Lincoln; grandchildren: Keith, Ashley, Cameron, Meghan, and Gabrielle; great grandson Kolby; Siblings: Garland Gehrke of Lincoln; Phyllis Ledoux of Indianapolis, IN; and Wilma Gehrke of Mazon; and lifetime family friend, Mary Mitchell. She was preceded in death by her parents; one son, Larry; and sister, Doris Miller.

Blanche was a homemaker and active member of St. John United Church of Christ, Lincoln. She was also a member of the Charity Guild.

Blanche leaves behind her priceless legacy, many valuable life lessons. She was everything a mother should be, and a true lady in every sense of the word. She was unfailingly polite, and as gracious and thankful as you would expect her to be. She instilled in her children the importance of love, faith and compassion. She taught us how a Christian loves, lives, and faces death. Her fight for life took her faith and everyone else around her to a new level. It took an immense amount of courage, faith in her God and love for her family to endure the pain, and suffering of her illness-knowing full well the obstacles she would face.
"Mom was unparalleled in her gift for caring for other people. Making all she met feel both important and loved. She loved others deeply, fully and unconditionally. Her family and friends will unanimously attest to this uniqueness she possessed. Breathe taking beauty resulting from a combination of both physical and spiritual.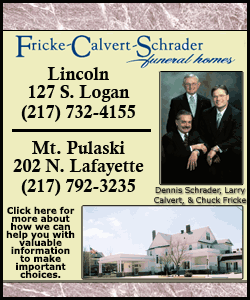 "She was our concrete Angel. The rock we all broke ourselves against, our constant pillar of strength.
"She lived for her children and family, and would do anything for them. She lovingly took care of our brother Larry in our home for 19 years, after his automobile accidents in 1971. She cared for her son, as only a mother could. Her great sense of duty was far greater than any sacrifice- a beautiful human being.

"She is safely home now in heaven. All her pain and suffering is over. We adored her and it has been our profound honor to be her children and grandchildren. Forever in our hearts, we love you."
Services for Blanche will be held at 10:00 a.m. on Wednesday, May 14, 2014 at St. John United Church of Christ with Rev. Jan Johnson, Rev. Wally Reifsteck, and Ryan Edgecombe officiating. A visitation will be held from 4-7:00 p.m. on Tuesday, May 13, at Fricke-Calvert-Schrader Funeral Home in Lincoln. Burial will be at New Union Cemetery in Lincoln. Memorials may be given to American Cancer Society, Alzheimer's Association, St. John United Church of Christ, or the American Diabetes Association.
Click here to send a note of condolence to the Kurtz family.