Relay for Life breakfast slated for May 18

Send a link to a friend Share
[May 15, 2014] LINCOLN - Relay for Life of Logan County's annual Relay For Life Breakfast will be held in the Lincoln College Meyers Evans Student Center on Sunday, May 18 from 9:00 a.m. to 1:00 p.m.
Starting the day with a good breakfast goes with this years theme: "Cookin Up A Cure For Cancer". Tickets for children under 12 years of age is $6.00 and all Adults is $10.00 and can be obtained from any team captain or member with tickets or by calling Devon Vannoy: 217-737-8295 or Tonita Reifsteck: 217-855-1645.

Tickets will be available at the door the day of the event. We request that there be no carry-outs, please.

All proceeds will benefit the Relay for Life of Logan County which provides services to cancer patients of the county.

The 2014 Relay for Life of Logan County will be held from 6 p.m. on Friday, July 25 to 6:00 a.m. on Saturday, July 26 at the Lincoln Center on the Lincoln College campus. Participants can still register with an existing team or start a team by calling Carolyn Motley: 217-732-8032.

Cancer survivors can register at the Breakfast or call 217-855-1645 for details.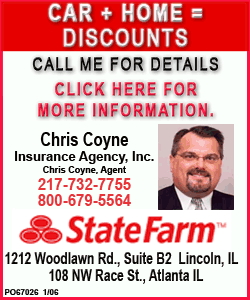 More information is posted on the Relay for Life of Logan County website at www.relayforlife.org/loganil

If you have any questions please contact Tonita Reifsteck, 855-1645; or Devin Vannoy, 217-737-8295

[Text received; TONITA REIFSTECK, PUBLICITY CHAIR, RELAY FOR LIFE]