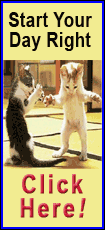 But the St. Louis Cardinals soon directed some fireworks to the scoreboard and handed Atlanta Braves starter Ervin Santana his first loss of the season.

With right fielder Allen Craig supplying three singles, two runs and an RBI to lead a 13-hit attack, the Cardinals subdued the Braves 5-2 at sold-out Busch Stadium.

Catcher Yadier Molina and first baseman Matt Adams also bagged two hits and an RBI each for St. Louis (22-20), while left fielder Matt Holliday snapped a 2-2 tie in the fifth with a run-scoring double.

"I think the guys played a clean, solid game," Cardinals manager Mike Matheny said.

Matheny and Peter Bourjos spiced up a chilly evening -- it was 56 degrees at game time -- with some heated verbiage towards Barber after Bourjos' second strikeout ended the fourth. Perhaps upset that Santana's letter-high 0-1 fastball was called a strike, Bourjos issued a parting blast for Barber and was dismissed.
Matheny charged on the field immediately and berated Barber at length before getting heaved, his first ejection of the year. Replays showed that Matheny made contact with Barber, although the manager denied it after the game.

"I loved the fire and fight in Peter," Matheny said. "The most frustrating thing was watching a player get thrown out when he was walking away. We were as frustrated as Peter. You can't take the emotion out of the game."

It didn't keep St. Louis from tagging Santana for four straight one-out hits in a three-run fifth. Included in those was Craig's third single, a liner into left that plated second baseman Kolten Wong for a 4-2 lead.

Santana (4-1) entered the game with a 1.99 earned run average, but allowed 10 hits and five runs in five innings, walking one and fanning three.

Meanwhile, Cardinals starter Lance Lynn (5-2) got better as the night got colder. He retired the last eight men he faced on 24 pitches to notch his first win since April 19.

In seven innings, Lynn scattered seven hits and allowed two runs while walking two and striking out three. He avoided the big inning that cost him in a 4-3 loss Saturday night at Pittsburgh, where he gave up a 3-0 lead by coughing up a four-spot in the fourth.

"You've got to make one pitch to avoid that inning," Lynn said. "You give up one run and that's it. I was ready to keep going, but I threw too many pitches early in the game."
It was the 20th time in the last 23 games that Atlanta (22-18) has been held to four runs or fewer. The Braves are hitting just .231 as a team and scoring only 3.2 runs per game.
"We just need one big hit," Atlanta third baseman Chris Johnson said. "It's just a matter of time before guys start getting hot. We just have to keep working at it and trying to do the little things right."

Johnson went 2-for-4 and scored a run, while second baseman Tyler Pastornicky supplied an RBI single to give the Braves a 1-0 second inning lead. Atlanta's other run scored on a double-play grounder off the bat of shortstop Andrelton Simmons in the fourth.

St. Louis responded each time. Adams doubled off the glove of center fielder B.J. Upton in the second to score Craig, and Santana tossed a two-out wild pitch in the fourth, enabling Craig to tie the game at 2.

Closer Trevor Rosenthal pitched a 1-2-3 ninth inning with two strikeouts for his 12th save in 13 chances.

NOTES: St. Louis RHP Jason Motte (elbow) pitched two scoreless innings on Thursday night during his rehab assignment for Triple-A Memphis. Motte was in St. Louis on Friday and could be activated as early as Sunday. ... Wednesday's 10-4 loss at San Francisco marked the first time in 19 games, dating to 2013, that Atlanta lost when scoring first. ... RHP David Aardsma, who could have opted out of his contract with the Cardinals on Thursday had they not brought him up to the majors, elected to stay at Memphis.
[© 2014 Thomson Reuters. All rights reserved.]
Copyright 2014 Reuters. All rights reserved. This material may not be published, broadcast, rewritten or redistributed.