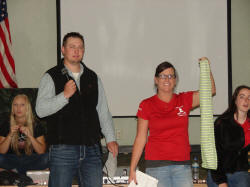 Auctioneer Cody Tucker (L) and St. Jude
Lincoln to Peoria Run coordinator Jennifer
Bergman keep the action going.
Quarter auction in Lincoln raises funds for St. Jude Children's Research Hospital

Send a link to a friend Share
[May 17, 2014] LINCOLN - The St. Jude Lincoln to Peoria Run team held a quarter auction fundraiser at the Knights of Columbus Hall on Thursday evening. A large crowd could bid by the quarter for over 100 items donated by the community.
Auctioneer Cody Tucker kept the action going as members of the audience held up their paddles to bid on everything from cheese cake to jewelry to a hedge trimmer. Quarters for bids were collected by members of the Lincoln High School girl's basketball team, who volunteered their time to help with this worthy cause.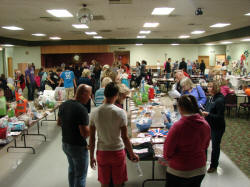 Lincoln to Peoria run coordinator Jennifer Bergman announced that this is the 25th year that Lincoln has participated in the run, which will be held on August 2, 2014. Each member of the team has to raise $750 in order to participate. The runners will depart Lincoln for Peoria at 5:30 a.m. and arrive at the Peoria Civic Center about 12 hours later. This is Bergman's 10th year as the run coordinator.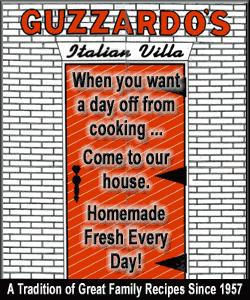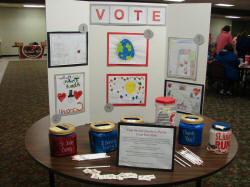 Those attending the quarter auction could also vote for the T-shirt design that the runners will wear when they run to the Peoria Civic Center. Several designs were sent by the Kid's Club and the YMCA's After School Program.

All of the proceeds from the run and the quarter auction are donated to St. Jude Children's Hospital in Memphis.
[By CURT FOX]