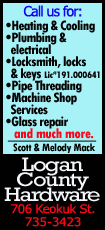 The HSLC sale will be held on Friday, June 13 through Sunday, June 15 in conjunction with the Logan County Route 66 garage sale event.

This year the sale will be located in the south barn at the fairgrounds instead of in the beer tent area. For shoppers this will be a better situation, especially if the weather is less than perfect. The asphalt drive way up to the building will mean no wading through soggy grass if it rains, and also it should be easier to pull a vehicle up close to load up those big purchases.

Judy Conzo and Adrienne Hahn are the designated supervisors and organizers of the garage sale.

Hahn commented that the HSLC relies heavily on volunteers, and there are a good many who are wonderful with the pets at the shelter. For herself and Conzo, they have found their niche in helping to keep the annual garage sale going.

In their third year, the group has enjoyed great success with the sale. The women commented that the first year, they really had no idea what to expect in donations or sales, but it was a great event. Last year they set and met a goal of raising $8,000 for the HSLC. This year, they have increased their goal to $10,000.

The group officially began collecting donations last week on Wednesday. By Saturday they had several hundred items already, some large and some small, but all in good condition and ready for someone to come in and snatch them up in June.


Conzo said right now they are collecting and grouping items together. The Master Gardener plant sale is coming up soon, and after that, the HSLC will have access to tables and will get started setting items out for display.

With the move to the barn, there is still room for tons and tons of donations and Conzo and Hahn are hoping people will fill the barn with great items that can be sold.

In addition, if youíve gone in the past and didnít buy something, donít expect to find it at the sale this year. Hahn explained that local auctioneer Mike Maske is great to take what is left at the end of the weekend and incorporate it into one of his auctions. Because of this, every donated item is sold with the HSLC reaping the benefit.

In addition to the garage sale items, the group will also be offering food again this year, and as an added attraction, the Railsplitter Antique Auto Club will be bringing their cars out for a show on the west side of the barn.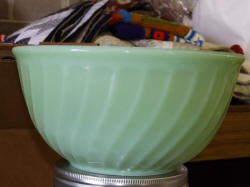 Taking a once over glance at what they already have on hand, if you are interested in silver and silver plate, they have it. If you are a collector of Fire King Jadite, they have at least one nice piece on hand.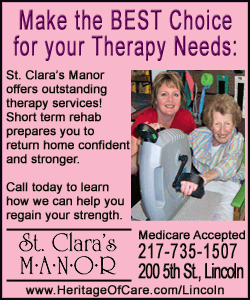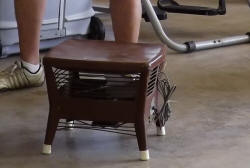 If youíre looking for vintage and kitsch, then there is a very unique room fan that youíll want to check out; and if you enjoy cooking in large quantities, they have some restaurant pots and pans that you may just have to have.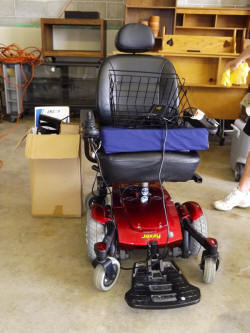 Right now, one of their prize possessions is an electric chair that was donated by Nick and Diane Turner. The chair is in excellent condition. It comes with a detachable wire basket for hauling items and also has an oxygen supply accessory kit included. The chair alone retails new for approximately $1,000. At the moment, HSLC doesnít have a price on the chair. But, it will be priced below new retail, and is sure to be a bargain purchase for anyone in need of such an item.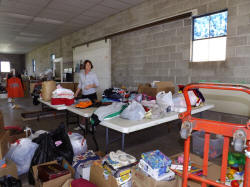 Of course in addition to the items mentioned above, there will be lots of clothing, purses, home goods and housewares, collectables, dishes, decorative items, toys, and much, much more.

If youíve gone before, you know what great treasures can be found. If you have not gone before, make sure this year is the year for you. You just never know what kind of wonderful item you may find that youíve been wanting or needing.
[By NILA SMITH]