Visitation: Monday at 9 a.m. prior to service at the funeral home.
Service: Monday 10:00 a.m. Fricke-Calvert-Schrader Funeral Home, Lincoln.
Funeral home: Fricke-Calvert-Schrader, Lincoln
Obituary
Olive E. "Tim" Nikles, 86, of Lincoln died at 9:49 a.m. Monday May 12, 2014 at her home.
Olive was born June 28, 1927 at Clearwater, Nebraska the daughter of Earl and Jennifer Nolze Twiss. She married Edward J. Nikles November 8, 1947 at Sioux City, Iowa. He preceded her in death December 18, 2007.
Tim is survived by her son: Brad (Barb) Nikles of Lincoln and daughter: Vicki (Jerry) Hamm of Elkhart; two sisters: Melpha Hiser and Charlene Lange of Nebraska; three grandchildren: Kate Nikles; Jason Hamm and Justin Hamm; two great grandchildren: Avery and Ryan Hamm. She was preceded in death by her parents, husband, four brothers and five sisters.
Tim had worked as a secretary for Lincoln School District #27. She was a member of First United Methodist Church of Lincoln. Tim loved playing bridge and being with her card group. She was also a member of the wii bowling league at Castle Manor, and loved golfing immensely.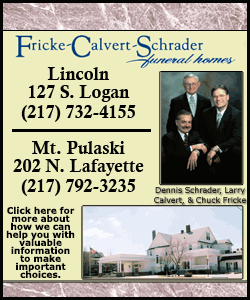 Mrs. Nikles chose to be cremated. A memorial service will be held Monday, May 19, 2014 at 10:00 a.m. with Tim Searby officiating at Fricke-Calvert-Schrader Funeral Home, Lincoln. Visitation will be one hour prior to service at the funeral home. To honor her granddaughter, Kate Nikles' love for animals, memorials may be given in her honor to Humane Society of Logan County.
Click here to send a note of condolence to the Nikles family.