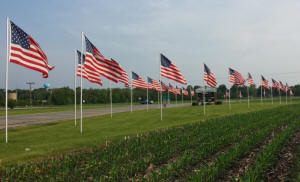 Mount Pulaski honors fallen soldiers through flag displays
Send a link to a friend Share
[May 27, 2014] MOUNT PULASKI - The City of Mount Pulaski annually displays twenty-six 16 foot American flags on Memorial Day from dawn to dusk at the corner of Route 121 and McDonald Street on the Southeast side of town.
This year, Jeff Anderson and Matt Presswood did the honors. Anderson said this tradition was started sometime before he began working for the city over six years ago.

Anderson said his brother honors their father's gravesite with an American flag in the Oglesby Elkhart Cemetery, while he proudly makes sure that these flags are up every Memorial Day in Mount Pulaski. The brother's father, Bill, served in both WWII and Korea, with their grandfather serving in WWI and uncle in WWII. Jeff said his uncle "got it pretty bad in the leg" in the South Pacific. His dad performed duties for the U.S. Navy in a mop-up operation helping the Japanese after the end of WWII, and then went back to serve as a LTJG on a ship during the Korean Conflict.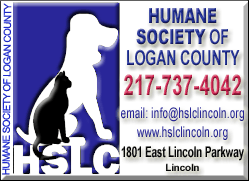 The Route 121 flags are also proudly flown on 4th of July and Veteran's Day in November.

In the Mount Pulaski Cemetery, the Mount Pulaski American Legion Ryman-Fuiten Post 447, with help from the Mount Pulaski Boy Scout Troop 121, place over 450 American flags; one on each veteran grave on Saturday morning before each Memorial Day.

On Memorial Day morning at the break of dawn, the American Flag is lowered to half-mast at the Veteran's Memorial high on the knoll where Memorial Day Services are held in the Mount Pulaski Cemetery

During the service held at 10 a.m., the Veteran's Memorial flag is "two-blocked", where it remains 24-7 throughout the rest of the year.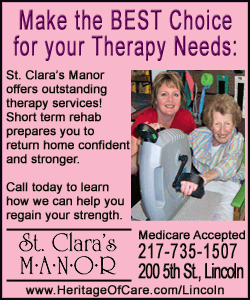 In Steenbergen Cemetery south of town, 12 foot American flags are flown on Memorial Day for each deceased veteran, with the veteran's name and identification number beneath each flag as they are place evenly alongside the roads that meander about the cemetery.

Steenbergen Memorial Day services are held at 11:30 a.m. in the Steenbergen Chapel. The Mount Pulaski American Legion Ryman-Fuiten Post 447, Mount Pulaski VFW Scroggin-Gee Post 777 and Mount Pulaski SAL Squadron 447 perform rifle-squad military rites at both cemetery locations, with bugler Alan Roos always on hand to blow taps. The Mount Pulaski High School and Grade School Bands play patriotic music at both locations, including of course, a beautiful resounding rendition of the United States Star Spangled Banner.
[By PHIL BERTONI]