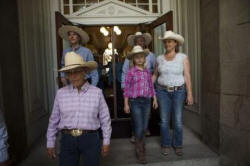 Nevada Ranchers Stage Horseback Rally Against Federal Land Policy
Send a link to a friend Share
[May 31, 2014] By Jennifer Dobner

(Reuters) - About 70 cattlemen and ranchers, half on horseback, rallied at the steps of Nevada's state Capitol on Friday to protest against federal control of grazing lands, complaining of cuts made in the number of cattle allowed to graze this year.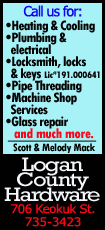 The ranchers want Republican Governor Brian Sandoval's help in ousting a regional Bureau of Land Management official whose office in northern Nevada has reduced by 20 percent the number of cattle allowed to graze over the next 12 months in the Battle Mountain region east of Carson City, citing lingering drought.

The protest, following a five-day 320-mile (515-km) ride across northern Nevada rangelands led by a county commissioner disgruntled with the BLM, comes amid growing grumbling about federal control of public lands in the U.S. West.

"Across the board I would like to see the land transferred to the state of Nevada," said Elko County Commissioner Grant Gerber, whose family began ranching in eastern Nevada in the mid-1800s. "Then people closer to the issue could make the decisions."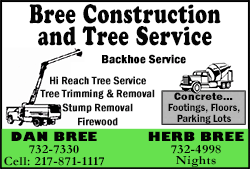 The BLM says a 20 percent reduction in cattle allotments in the Battle Mountain area was negotiated with grazing permit holders and county commissioners over several months due to drought.

"These conditions have stressed all resources on the public lands, making grazing throughout most of Nevada unsustainable at permitted levels," the agency said in a statement this week.

Gerber, an attorney who has represented ranchers in squabbles with the BLM for three decades, said the reductions threaten the livelihoods of ranching families who felt forced to accept the reductions to avoid bigger threatened cuts.

Gerber said the multiday horseback protest, dubbed the "Grass March," was modeled after Gandhi's "Salt March" across India to protest British control of the salt supply in 1930, which he likened to BLM control of Nevada's public lands.

[to top of second column]
The ride is the latest demonstration against federal control of public land since a highly publicized April standoff between armed backers of rancher Cliven Bundy and federal authorities who sought to seize his herd over Bundy's failure to pay grazing fees or remove his cattle from public land outside of Las Vegas.

The following month, all-terrain vehicle enthusiasts in Utah held an illegal ride on a canyon trail protesting the BLM's closure of that area to motorized vehicles.

As of Friday, about 1,000 Nevadans had signed Gerber's petition seeking the removal of BLM District Manager Douglas Furtado, a copy of which was given to Sandoval during a brief meeting.

BLM spokeswoman Erica Haspiel-Szlosek said the agency had no comment on the rancher's petition. Sandoval spokesman Tyler Klimas urged cooperation on land issues in a state where over 80 percent of public land is federally controlled.

(Additional reporting by Max Whittaker in Carson City; Editing by Cynthia Johnston and Lisa Shumaker)
[© 2014 Thomson Reuters. All rights reserved.]
Copyright 2014 Reuters. All rights reserved. This material may not be published, broadcast, rewritten or redistributed.