Reservations are required and limited to approximately 50 people. The Palms Grill Café will feature a set of dinner specials, including homemade desserts for each program. Phone 217-648-5077 to make a reservation for any of the scheduled Dinner Programs.
Friday, October 24, 2014 – Pontiacs in Pontiac
In August of 2010 Tim Dye, an avowed Pontiac car enthusiast, pulled off Interstate 55 into Pontiac, Illinois because he was intrigued by the community's name. Join Tim and his wife Penny as they tell the story of how the Pontiac-Oakland Museum & Resource Center ended up being established just up Rt. 66 from us shortly after Tim made that fateful pitstop in Pontiac.
Friday, November 7, 2014 – How Homing Pigeons Helped Win the War
Tammy Hanley of Peoria loves to talk about the role homing pigeons played in World War II. She'll quickly inform you that there were 56,000 pigeons trained - and 32,000 used - in combat during that conflict. Dressed in the uniform of a Women's Army Corps enlistee, and featuring several of her live pigeons in World War II-era harness, Tammy will present a program on how carrier pigeons carried vital messages between Allied troops and ultimately helped us win World War II.

Friday, November 21, 2014 – Rt. 66 in Illinois
Co-authors Joe Sonderman and Cheryl Eichar Jett will be on hand for a slide show presentation and stories about America's Mother Road from its Chicago roots to the Mississippi River, including our own Atlanta. Sonderman and Jett are experienced authors and historians who have 19 books to their credit, many on Route 66. The past year was a labor of love as they explored the back roads of Route 66 in Illinois. They collected thousands of photographs along the way, selecting about 200 of their favorites for their newest book about the Mother Road.
Friday, December 5, 2014 – Producing the Movie: "Dead Draw"
Throughout a terribly cold night this past January, the Atlanta National Bank provided the locale for filming several scenes in the new independent movie "Dead Draw". Dan Kolen, one of the film's producers, will be on hand to describe this character-driven crime story about a band of brothers involved in a bank heist that goes terribly wrong – and what exactly is involved in being a producer. Over the past six years, Dan has worked in production on narrative features, long-form documentaries, reality TV casting, and political advertisements. The first showing of "Dead Draw" is planned at the 2015 Toronto Film Festival.
Friday, December 19, 2014 – The Old House Society Warehouse Story
Need a glass lampshade from the 1920s? Or how about circa 1890 hinge? Or some wooden baseboard that matches what's in your 1908 house? Your go-to person is Laura Walden, manager of the Warehouse for Bloomington's Old House Society - a non-profit organization that deals with old houses, salvaging materials, historical information, and preserving old homes.. Come meet Laura as she shares stories about what has to be one of the more unique jobs in our area.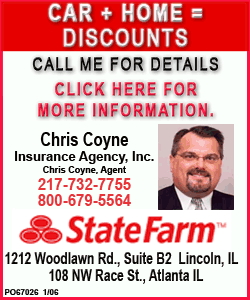 Friday, January 23, 2015 – Leave the Driving to Us!
The Greyhound Scenicruiser is undoubtedly the most recognized bus ever built in the U.S. Introduced by the GM Corporation during 1954-56, its popularity, even today, is almost cult-like. It made such an indelible impression on Americans in the fifties and sixties, that every other bus was looked on as, well…just a bus. Tom Martin, of Peoria, owns and restores Scenicruisers – and since The Grill was a Greyhound stop back in the day, who better to join us for an evening to celebrate and tell the story of this famous mode of transportation.
Friday, February 6, 2015 – The Mystery of Joe & Verna Rehrman: The Bucket of Blood
Sometime in the early afternoon on Tuesday, April 2, 1935 a murder/suicide happened involving Joseph and Verna Rehrman, owners of the Popular Inn, a roadhouse located on Rt. 66 just north of Atlanta. The mystery of exactly what transpired that fateful day will be recounted in a new narrative written by Terri Ryburn, based upon research conducted by the Atlanta Museum and the Atlanta Historic Commission – including new research conducted since last year. Come learn about this tragedy as we examine the mystery of The Bucket of Blood. This program is being brought back by popular demand after its original presentation last year.
Friday, February 13, 2015 – J.K. Williams Distilling: Craftsmanship – Passion - Flavor
The descendants of Prohibition-era, bootleg whiskey-making master, J.K. Williams, felt a certain responsibility to bring craft whiskey and bourbon-making back to the Peoria area. Their great-great-grandpa was a family man with an extraordinary work ethic and an undeniable talent for making some of the best whiskey of his time. Join us as members of the Williams family share the story of how they opened their East Peorial-based distillery business in 2013. We'll taste test some of their products and the evening's menu will feature slices of Whiskey Apple Pie. Cheers!
Friday, February 20, 2015 – Circulating Design
For over a hundred years the city of Atlanta has enjoyed a unique Library environment. Travel back as we take an in-depth look at how the Library has changed and developed over the years. From its humble beginnings as a few shelves stored at the newspaper office to a collection of over 9,000 books housed in the state's only octagonal library, we will examine our small-town's dedication to maintaining this center of knowledge and expanded horizons. Join us as we delve into the history of the Atlanta Library and get a glimpse of its possible future.
[Bill Thomas, Atlanta Public Library]