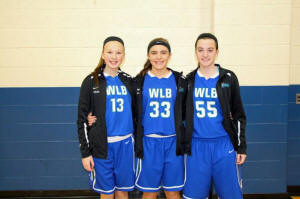 Lady Wolverine 8th Graders (L to R): Morgan Mollohan, Emma Konczyk and Paige Langely.
West Lincoln-Broadwell Lady Wolverines win games at Pack the Place
Send a link to a friend Share
[November 06, 2014] LINCOLN - The Lady Wolverines celebrated their final home game of the season by "Packing the place" and honoring members of the Junior Lady Wolverine program as well as the three 8th-graders, Emma Konczyk, Paige Langley, and Morgan Mollohan.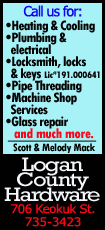 The Lady Wolverines faced off against Little Flower of Springfield. The 7th grade team started the night off by defeating Little Flower 31-21.
Leah Schneider led all scorers with 8 points as Madison Orebaugh contributed with 7. Also scoring were Tori Schilling with 4, Madelyn Koehler 4 and Karissa Bowman, Brooke Montcalm and Adrienne Tiffany all had 2 points. Emily Paulus pulled down 6 rebounds as Madison Orebaugh had 4.

With the win the 7th grade Lady Wolverines are now 13-0 on the season.

The 8th grade team followed suit as they came up fired up. The 8th grade team pulled out to a 16-2 first quarter lead and never gave up.

Emma Konczyk an 8th grader playing her last time on the WLB floor came out on fire. She led the Wolverines with 22 points.
Leah Schneider contributed with 8 points as Madelyn Koehler put in 6, also contributing were Morgan Mollohan and Madison Orebaugh with 4, Adrienne Tiffany and Abbie Oliver had 2 points.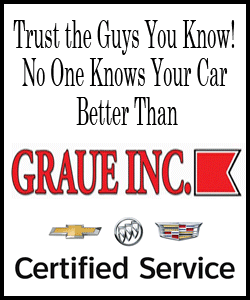 Paige Langley also an 8th-grader worked fiercely on the boards as she pulled down 9 rebounds. Madison Orebaugh played a great defensive game creating 8 steals.

With the win the 8th Grade Lady Wolverines are now 14-2.
[Coach Kari Froebe]