---
December 4
Service of Solace
4 p.m. at St. John's Lutheran Church, Hartsburg
For all those facing anxiety and loss, St. John's Hartsburg is hosting a Service of Solace – a time to worship, share memories and remember those we hold dear but are no longer with us. As a community of faith, we share in each other's joys and pain. All are invited to join together for a quiet service interspersed with songs and a hopeful message for those who are grieving.

---
December 5
Friday night Dinner Program at the Palms Grill
Producing the Movie: "Dead Draw"

ATLANTA -

Throughout a terribly cold night this past January, the Atlanta National Bank provided the locale for filming several scenes in the new independent movie "Dead Draw". Dan Kolen, one of the film's producers, will be on hand to describe this character-driven crime story about a band of brothers involved in a bank heist that goes terribly wrong – and what exactly is involved in being a producer. Over the past six years, Dan has worked in production on narrative features, long-form documentaries, reality TV casting, and political advertisements. The first showing of "Dead Draw" is planned at the 2015 Toronto Film Festival. (Click here to continue reading)

---
December 6
Christmas Mustang Style
Saturday, December 6th at the New Holland-Middletown School, Middletown (Click here for more detail)
---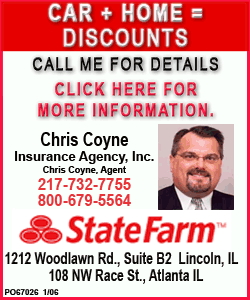 ---
December 7
Lincoln Woman's Club to host Home for the Holidays Christmas Tour of Homes
Home for the Holidays is a Christmas Tour of Homes presented by the Lincoln Woman's Club. To be held December 7, guests will stroll through five lovely homes in what was once knows as the Silk Stocking District of Lincoln. (Click here to continue reading)
---
1st Thursday of the month
Fill Your Cup Coffee and fellowship

Fill your Cup is a no cost, relaxing night out just for grown-ups. Come and enjoy an evening of entertainment, coffee and desserts. Hosted by the Lincoln Church of the Nazarene from 6 p.m. to 8 p.m. the first Thursday of each month.

---
Throughout the year
Electronics recycling held on the second Saturday of each month
Habitat for Humanity Logan County will hold its monthly electronics recycling collection on the second Saturday of each month at the Habitat for Humanity warehouse located at 915 Woodlawn Road between the hours of 9 AM and noon. The collection is offered free of charge to the public. Habitat for Humanity Logan County continues to collect televisions for recycling. (Click here to continue reading)
---