Before tip-off the Honeybears and their parents were introduced to the crowd and Coach Jamie Anderson spoke a few words about this talented group of 8th graders. He noted that during their 7th and 8th grade years this group had compiled a 38-2 record on the basketball court.

Each of the girls also took to the microphone to thank parents, coaches, family and fans for their support throughout the years. Athletic Director Brent Griesham also mentioned what a great group of girls these five are everyday at school.

Meanwhile in the stands, the fan section had decided to remain quiet for the first ten points of the game. Honestly, that silence only lasted a few minutes after tip-off. Madison Thomas opened the game with a jumper, while Abigail Fitzpatrick quickly followed with two points of her own in the paint. A couple forced turnovers by the Honeybears press, and Skylar Hayes had two easy buckets of her own.
The Mount Pulaski defense was without a doubt too much for Bement early on. A steal by Hayes and another easy two led to the crowd erupting as the score was 10-0. Again the Honeybears kept the press on and before you knew it the ball was in Thomas' hands again and she was "feelin' it." She banked a three from beyond the arc and that prompted fan Stan Anderson to say, "Madison with a little late night bankin'." Meanwhile, Hayes continued to be a thorn in the side of the Bulldogs with yet another steal and layup.

The Honeybears offense continued its domination of Bement as Ainsley Chandler got in on the action with a nice bucket off an inbounds pass from Hayes. These girls just move the ball so well and play so unselfishly. Hayes scored another layup coming off a nice half-court pass from Fitzpatrick, who has the natural ability to see the entire court and put the ball right where she wants to. After Chandler sunk two free throws, Hayes and Fitzpatrick took turns sinking buckets and pushing the lead to 28-0 as the first quarter ended.
Callie Anderson was the remaining starter to get in the books with her own layup early in the second quarter and once the lead was 34-0 Coach Anderson gave his starters a rest.

Finally with around 2:00 minutes remaining in the second quarter Bement was on the scoreboard with their first basket of the game. However, the subs kept the scoring going for Mount Pulaski. Olivia Cooper scored five points coming off the bench in the second quarter for the Honeybears and Makayla Stewart added a bucket to stretch the halftime lead to 41-2.
Quickly into the third quarter Chandler hit a three while Hayes hit the baseline jumper nothing but net and the foul. A couple more baskets by Fitzpatrick and Chandler and at the end of three the Honeybears had a commanding 52-4 lead over Bement.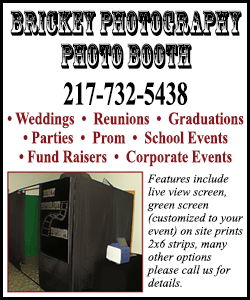 Chandler was still feeling hot from behind the arc in the fourth quarter scoring the Honeybears only three points before the 8th graders came out for the final time of the evening. Coach Anderson respectfully subbed for each player so the crowd could give them the recognition and appreciation they deserved.

The final score as the buzzer went off and the crowd tossed streamers into the air was 55-10.

The Honeybears end the regular season with a 20-1 record. Their only loss coming to West Lincoln Broadwell in the Logan County Tournament.

Next up Mount Pulaski will host the 8th grade Regional beginning on December 1. "We're just glad to be home," Coach Anderson said following the victory. "It's been six years since we've hosted a Regional," he added. Anderson also noted that Springfield Christian, a team the Honeybears just beat 35-22 on November 15th, would also be in their Regional. Springfield Christian had knocked the Honeybears out in Sectionals last season.

According the IESA website Mount Pulaski is seeded number one for the Regional, while Springfield Christian earned the number two seed. Mount Pulaski has a bye for the first round of Regional and will play the winner of the Buffalo Tri-City/Chester East Lincoln game on Tuesday, December 2nd at 6 p.m.

The championship game of the 8th grade Regional will be Friday, December 5th in Mount Pulaski.

Final scoring for the 8th grade game Mount Pulaski vs. Bement:

Hayes 18
Chandler 14
Fitzpatrick 9
Thomas 5
Cooper 5
Anderson 2
Stewart 2

[Teena Lowery]