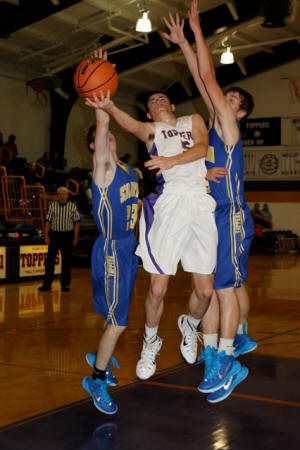 Junior Dalton Litterly came off the bench to score 15 points and lead the Mt. Pulaski Toppers to a 55-46 season opening win.
Boys Basketball: Toppers open season with a win
Send a link to a friend Share
[November 25, 2014] MOUNT PULASKI — The Mount Pulaski Toppers opened the basketball season with a 55-46 win over the Danville Schlarman Toppers Monday night in the Toppers Turkey Tourney.
Five seniors started for Mount Pulaski but it was junior guard Dalton Litterly who led the team with 15 points. Litterly scored 10 of those points in what was a very fast-paced first half . The quick speed of Mount Pulaski led to many forced turnovers and easy layups in that first half.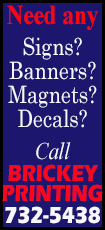 Senior Brayden Curry got Mount Pulaski on the scoreboard first with a free throw at 6:55. Senior Michael Lowery scored the first two of the Toppers season with a drive to the basket and Curry would follow that in the next possession with the Toppers first three from long distance. Dalton Litterly came off the bench in the first quarter and he quickly had two layups and a steal as Mount Pulaski pulled out to an early 12-5 lead. A couple more layups by Mount Pulaski and a nice put back by Curry off the rebound and the Mount Pulaski Toppers were up 19-5 at the end of one quarter of play.

Litterly was pumped and ready to go for that second quarter as he had one easy layup and another nice one thru traffic in the lane. Lowery also kept the scoring at a quick pace with his own drive thru the lane and then he spotted Litterly for a nice pass thru the lane and a 27-14 Mount Pulaski lead.


Lowery was intentionally fouled as things were beginning to get a little rough but he missed both free throws. Senior Beau Collier was fouled just before the half and he sunk one of those free throws to give Mount Pulaski the 28-14 lead at the half.

Mount Pulaski senior Matt Amidon, who plays a lot taller than his 6'0 frame, went up strong for two points on the rebound to get the third quarter scoring started. Blake Collier also made good use of his time on the court by driving the lane thru heavy traffic for two points. Curry also drives the basket well from all directions and his baseline layup gave Mount Pulaski a 36-24 lead. Mount Pulaski continued to have good ball movement in the third quarter and Coach Ryan Deibert subbed frequently in order to give his starters each a rest. Following a late third quarter short jumper by Amidon the Mount Pulaski Toppers were on top 41-27.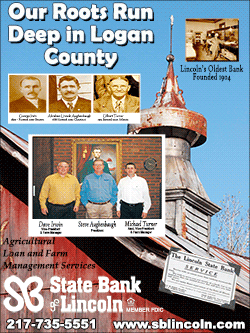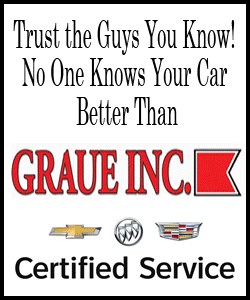 Amidon had another nice move on a drive to the basket early in the fourth quarter to give Mount Pulaski a pretty comfortable 46-30 lead. Danville Schlarman was not giving up though and went on a 7-1 run on Mount Pulaski, pulling within ten points, 47-37 with 2:09 remaining in the game. The Mount Pulaski Toppers still had plenty of life left in them thanks to a deep bench and Beau Collier was fouled and made both free throws extending the lead to 49-37. A steal and a layup by Litterly gave Mount Pulaski a little more breathing room 51-39 with 1:19 remaining. Litterly would finish his scoring on the night with an impressive reverse layup on a pass from Lowery to put the Mount Pulaski Toppers up 53-39. A couple more free throws later by Curry and time had run out for Danville Schlarman, who had managed to sink a couple three's late in the game. Mount Pulaski's first win of the 2014-15 season was in the books 55-46.
Mount Pulaski Toppers scoring:

Dalton Litterly 15
Michael Lowery 12
Brayden Curry 12
Matt Amidon 9
Beau Collier 5
Blake Collier 2

In earlier tournament action Decatur LSA defeated Tric-City 73-24 and in late action it was Springfield Calvary over Illini Central 56-22.

Rest of the Topper Turkey Tournament schedule:

Tuesday, November 25
5:00 Springfield Calvary vs. Decatur Christian
6:30 Tri-City vs. Danville Schlarman
8:00 Porta vs. Illini Central

Wednesday, November 26
5:00 Decatur LSA vs. Danville Schlarman
6:30 Decatur Christian vs. Porta
8:00 Tri-City vs. Mount Pulaski

Friday, November 28
5:00 Illini Central vs. Decatur Christian
6:30 Porta vs. Springfield Calvary
8:00 Mount Pulaski vs. Decatur LSA

Saturday, November 29
3:30 4 Purple vs. 4 Gold
5:00 3 Purple vs. 3 Gold
6:30 2 Purple vs. 2 Gold
8:00 1 Purple vs. 1 Gold
[Teena Lowery]