October 5
Local first responders to host Lights & Sirens Parade Sunday



Send a link to a friend Share
[October 01, 2014] LINCOLN - This coming Sunday, October 5, the city of Lincoln Fire Department and the Lincoln Rural Fire Protection District will host a Lights & Sirens Parade through the city of Lincoln. All first responders within the county, and in general "anything with lights," is invited to join in the parade according the Lincoln Fire Department's Chief Mark Miller. (Click here to continue reading)
---
October 4
Humane Society to host pet blessing October 4
Will also dedicate the new Pet Cemetery Gazebo and Scatter Garden
On Saturday October 4th the Humane Society of Logan County will hold it's annual Pet Blessing Ceremony at the Humane Shelter in Lincoln. The event is scheduled to take place from 1 p.m. to 3 p.m. and will include a dedication ceremony for the new Gazebo at the Forever Home Pet Cemetery as well as the Scatter Garden. (Click here to continue reading)
---
October 11
It's time to check out that basement and garage!
Household hazardous waste collection coming to Logan County Fairground October 11
LINCOLN - Looking for a free, environmentally safe disposal option for household hazardous wastes such as oil-based paint, pesticides, old medications and other household chemicals? (Click here to continue reading)

---
October 11
2014 Moving Forward Walk/Run Offers Logan County's Only 10K Option
Register Now!
LINCOLN - The Abraham Lincoln Healthcare Foundation and Memorial SportsCare at ALMH announced today that an early discount for participants of the Moving Forward 5K/10K Run/Walk ends September 13, 2014. The Run/Walk is scheduled for October 11 at Edward Madigan State Park and will be held rain or shine. (Click here to continue reading)
---
October 13
Lincoln Low Vision Support Group
You are invited to attend our next meeting of the Lincoln Low Vision Support Group which will be held at the Lincoln Christian Church, corner of Pekin & McLean streets in Lincoln. Please enter into the door off the parking lot under the canopy.

Our speaker will be Marty Fulton who will speak about traveling as a low vision person. (Click here to continue reading)

---
October 19
Thrivent to hold annual meeting October 19
Thrivent Financial For Lutherans Logan County Chapter will hold its annual meeting on Sunday October 19 at noon. (Click here to continue reading)

---
1st Thursday of the month
Fill Your Cup Coffee and fellowship

Fill you Cup is a not cost, relaxing night out just for grown ups. Come and enjoy an evening of entertainment, coffee and desserts. Hosted by the Lincoln Church of the Nazarene from 6 p.m. to 8 p.m. the first Thursday of each month.

---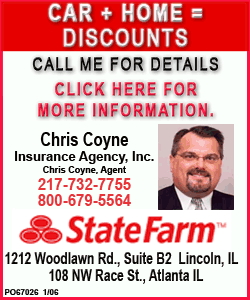 ---
Starting October 24
Friday night Dinner Programs return to the Palms Grill
ATLANTA - The Atlanta Public Library and Museum will host a series of Friday Night Dinner Programs at the Palms Grill Café from October 2014 through February 2015. The Dinner Programs feature local speakers who will present after dinner programs and/or activities at the Palms Grill Café. Dinner begins at 5:30 pm, with the evening's program or activity starting at 7pm. (Click here to continue reading)
---
October 25
If only these walls could talk
Historic commission hosts workshop on researching your homes history
LINCOLN - Have you ever wondered who built your home? How many families have lived there and their names? Did anything significant or exciting happen at your home? (Click here to continue reading)

---
October 28
Public forum for Outdoor Trails in Logan County
Hosted by the Healthy Communities Partnership and the Logan County Regional Planning Commission
Please join in on October 28th at 6:30 p.m.. Hear about our progress and how you can get involved! Meeting will be held at the Lincoln Park District
---
October 28
Second annual Fall Fitness Festival to be held October 28th at the Lincoln Park District.

T

he Lincoln Park District Fit Zone would like to invite everyone to the Second Annual Fall Fitness Festival! Join us Saturday, October 28, 2014 from 10 a.m. to 2 p.m. (Click here to continue reading)
---
Thru October
Glass recycling held the second Saturday of each month
The Logan County Joint Solid Waste Agency, in collaboration with the Lincoln Woman's Club and the Ardagh Group(formerly Verallia Saint-Gobain Containers), holds its monthly glass collection on the second Saturday of each month thru the summer at the Logan County Fairgrounds (use Main Gate entrance) between the hours of 9 AM and noon. The collection will be cancelled in event of inclement weather or extreme heat. (Click here to continue reading)

---
November 29
5th Saturday Opry at Lincoln Eagles
Join the 5th Saturday Opry Band for an evening of country music on November 29! (Click here to continue reading)
---
Throughout the year
Electronics recycling held on the second Saturday of each month
Habitat for Humanity Logan County will hold its monthly electronics recycling collection on the second Saturday of each month at the Habitat for Humanity warehouse located at 915 Woodlawn Road between the hours of 9 AM and noon. The collection is offered free of charge to the public. Habitat for Humanity Logan County continues to collect televisions for recycling. (Click here to continue reading)
---