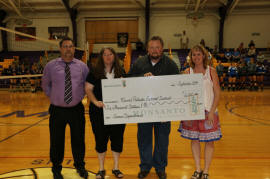 Jerry Turner, representing the Monsanto site of Illiopolis, presents a check to Mount Pulaski High School principal Terry Morgan and teachers Mindy Gross and Michele Clark
Monsanto gifts science departments in Mount Pulaski schools
Teachers to purchase safety equipment and microscopes

Send a link to a friend Share
[October 02, 2014] MOUNT PULASKI - The Mount Pulaski Community Unit School District 23 was presented a check for $6,000 Tuesday evening at halftime of the girls volleyball game. Mount Pulaski was awarded the grant as part of Monsanto Fund's 2014 site grant initiative.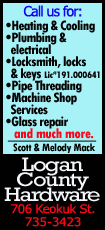 Jerry Turner, seed technician at Monsanto and a former volleyball coach himself, presented the check to the Science Department of the school district. On hand to receive the check were high school science teachers Mindy Gross and Michele Clark. Mount Pulaski Junior High science teacher Karen Allspach was unable to attend the presentation, but her science program will also benefit from the grant.

According to Michele Clark, this the first time Mount Pulaski has ever applied for and received the grant. Clark was contacted last winter by Turner and urged to fill out the online application. "The online application basically wanted to know what we wanted, what the school would use the money for and the demographics of the school," Clark said.

Clark and Allspach plan to use their portion of the money to purchase much-needed new microscopes, while Gross plans to purchase lab safety equipment for her classroom. By splitting the $6,000 evenly, each teacher is able to add something to their classroom for the benefit of the students. "This allows us to update and get larger pieces of equipment we normally could not get," added Clark.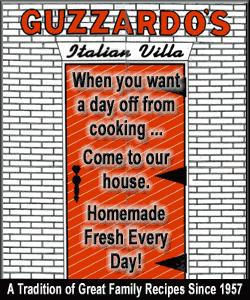 Clark plans on reporting back to Monsanto in February to let the company know how the money is being used. After a year, Clark says, she will reapply for another grant with Monsanto and she plans on making her wish list now.

Mount Pulaski CUD #23 serves the students of Mount Pulaski, Elkhart, Chestnut, Cornland and Lake Fork.
[Teena Lowery]