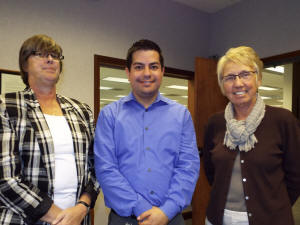 Habitat receives $20,000 grant from Eaton Corporation
Send a link to a friend Share
[October 10, 2014] LINCOLN - On Thursday morning, Cince Bown, representing the Habitat for Humanity of Logan County paid a visit to the offices of Eaton Corporation in Lincoln. The purpose of her visit was to accept and express appreciation for a $20,000 grant award for Habitat.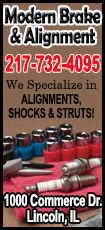 Meeting with Bown were Patty Becker and Vladimir Salazar of Eaton. The group shared information about the $20,000 award.

Bown said that Habitat had made a grant application and noted that Bob Chamberlain, the Habitat treasurer, had played a big role in getting that application completed and submitted.

According to Becker, Eaton Corporation, whose home offices are located in Cleveland Ohio, has a charitable fund that is used to support not-for-profit community service organizations in each of the communities where Eaton has a production plant.

In the individual communities, grant applications are submitted to the local offices then forwarded to the corporate office. The corporation then awards grants to every community. In Logan County this year Habitat was the largest grant award, but grant dollars were also given to the Lincoln Area YMCA, Heartland Community College, Junior Achievement, and a new local organization, Girls on the Run.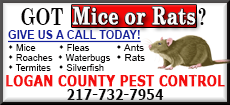 Habitat also received a grant in 2013 for $20,000. Those dollars were used to help pay the expenses of building the new addition to the warehouse located on Woodlawn. Bown said the money this year would also be used in the warehouse to add drywall where needed, and do other finish work.

Bown noted that Habitat operates solely on donations and support from local business and industry such as Eaton. Money donated goes straight into the building of homes in the Logan County community, so dollars from grants such as this enable Habitat to have facilities that are necessary for storage of building materials and supplies.

Bown said right now there may not be a ground breaking for a new home in Logan County in 2014. She said if it does happen it will be very late in the year. Right now Habitat has seven applicants for new homes, and another five that are working on their applications.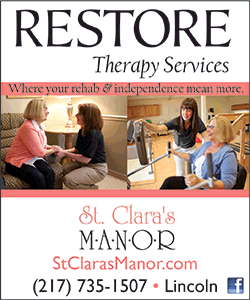 For the organization, choosing the proper recipient is a careful process. Bown talked about this saying that in today's economy especially, Habitat doesn't want to burden a family with a mortgage they may not be able to pay. Careful consideration has to be given to the family's economic situation before an award is given out.

In addition to the application, families who are chosen to receive a Habitat home have to be able to put in some type of sweat equity. This includes volunteer hours working on Habitat projects before their home is built, as well as time spent during the construction of the home.

Once the home is built, the family signs a mortgage agreement with Habitat and is expected to make their payments on time. They are assigned a mentor who works with them from the day their application is approved, until their home is paid off. Families receive guidance and instruction on financial management and budgeting, and get lots of support and encouragement throughout the term from their mentor.

On Thursday, Bown thanked Eaton for the grant to Habitat and noted that it is just one thing that Eaton does for Habitat. She explained the company is always ready to supply electrical building materials to Habitat for new homes, and that also is greatly appreciated.

She added, "I don't think people realize just how much Eaton Corporation does for our community."
[Nila Smith]