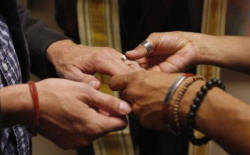 Kansas Supreme Court temporarily blocks gay marriages
Send a link to a friend Share
[October 11, 2014] By Kevin Murphy

KANSAS CITY Kan. (Reuters) - The legal battle over gay rights in Kansas reached the state's highest court and the federal courts on Friday hours after two women were married outside a county courthouse.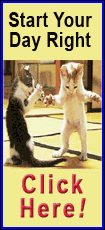 The Kansas Supreme Court on Friday blocked temporarily the issuance of marriage licenses to same-sex couples in Kansas, but said couples could file applications, and the ACLU of Kansas filed a lawsuit challenging the state's ban on gay marriage.

"I shouldn't have to leave my state to get a basic civil right," one of the plaintiffs in the ACLU lawsuit, Kerry Wilks, had told Reuters on Tuesday. "This is part of a larger issue - it's about basic equality for gays and lesbians."

The Kansas Supreme Court set oral arguments for Nov. 6 and asked attorneys in part to address whether a judge in Johnson County, the state's most populous, was correct in ordering clerks to issue marriage licenses to same-sex couples.


The judge issued his order Wednesday based on a U.S. Supreme Court decision not to review a U.S. appeals court ruling that struck down bans on gay marriage in other states.

The Kansas attorney general had asked the state Supreme Court to nullify the Johnson County judge's order and to order that no other licenses be issued.

Amid the debate, two women wed Friday in front of the Johnson County courthouse, District Court Clerk Sandy McCurdy said. McCurdy did not release their names.

They were the only same-sex couple who had sought a marriage license on Tuesday, McCurdy said. They received their license on Friday following the three-day waiting period required under Kansas law, and were married quickly.

[to top of second column]
Fifty-two same-sex couples had sought marriage licenses as of Friday afternoon in Johnson County, McCurdy said.
Kansas bans same-sex marriage by state law and its state constitution, a position expected to be overturned following a U.S. Supreme Court decision on Monday.

The U.S. Supreme Court decided not to review U.S. appeals court decision striking down bans in Oklahoma and Utah, which are in the same U.S. appeals court circuit as Kansas, meaning the state is bound by that court's rulings.

(Reporting by Kevin Murphy; Additional reporting by Alice Mannette in Wichita, Kansas; Editing by David Gregorio and Richard Borsuk)
[© 2014 Thomson Reuters. All rights reserved.]
Copyright 2014 Reuters. All rights reserved. This material may not be published, broadcast, rewritten or redistributed.