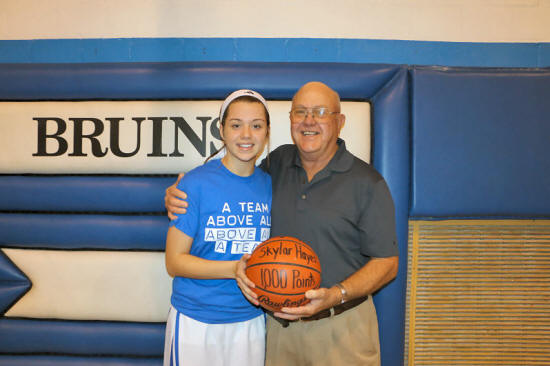 Skylar Hayes made history this week by scoring 1,000 points in her junior high basketball career. She presented the ball to her grandfather, Dick Hayes of Mount Pulaski.
Girls basketball: Mount Pulaski Grade School win over Chester-East Lincoln continues perfect season
Skylar Hayes sets 1,000 point record
Send a link to a friend Share
[October 27, 2014] MOUNT PULASKI - The Mount Pulaski Grade School girls basketball team continued their perfect season as Skylar Hayes was honored for scoring her 1,000th point on Thursday evening.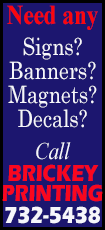 Mount Pulaski Grade School Honeybears cruised to a 47-10 victory over Chester-East Lincoln. The Honeybears have a perfect 12-0 record on the season.

Skylar Hayes started the scoring for the Honeybears with an impressive reverse layup on an inbounds pass just less than a minute into the game. A free throw by Abigail Fitzpatrick, another layup by Hayes and a soft jumper from the corner by Madison Thomas would put the Honeybears up quickly 7-0.

Chester-East would answer with buckets from Makenzie Antoine and Molly Sawicki to cut the lead to 7-4.

It would not take long for Hayes to score a couple more layups, one on a very nice pass from Fitzpatrick. Ainsley Chandler finished the scoring in the first quarter with a couple free throws and a 13-4 Mount Pulaski lead.


The Honeybears came out in the second quarter every bit as impressive as the first. Hayes quickly started the scoring with a layup and followed up the next possession with a nice pass under the basket to Fitzpatrick who scored the easy bucket. Fitzpatrick showed some of her own basketball finesse on the next play with a spin around jumper for two and the "and one" as she was fouled on the shot. Chandler followed the next possession with a nice two from the paint, meanwhile Chester-East could not buy a bucket at the other end. Another reverse layup by Hayes and the Honeybears stretched the lead to 24-4. Fitzpatrick would contribute two more buckets on this scoring run by Mount Pulaski and Thomas would finish off the quarter with two more for a commanding 30-4 halftime lead.

Great defense by Mount Pulaski stopped Chester-East from scoring all together in the second quarter. Makenzie Antoine broke the scoring drought for the Panthers in the third quarter with a couple free throws and a basket. Mount Pulaski's trio of Hayes, Fitzpatrick and Chandler though continued their scoring and at the end of three quarters it was the Honeybears with a huge 42-8 lead.

Fitzpatrick had another nice layup and one to stretch the lead to 45-8 to open the fourth quarter. Chandler followed with another two points just before the starters were taken out to a standing ovation from the Mount Pulaski crowd.

Sawicki from Chester-East would score the final points for the Panthers and just like that 24 minutes of basketball was over.

The final score was 47-10.

A great team effort and a balanced scoring attack by the MPGS 8th graders indeed. For Mount Pulaski Hayes finished with 18 points, Fitzpatrick had 13 points, Chandler chipped in 12 points and Thomas with the remaining 4 points. Antoine led Chester-East with 6 points and Sawicki added 4 points. After the game, Coach Jamie Anderson was very pleased with his team and when asked about how this team compares to some of his other great teams of the past he answered, "There has been great chemistry within each group. On and off the court each of these groups have gotten along well with each other. You have to have that chemistry."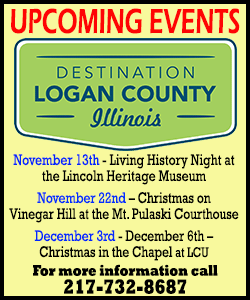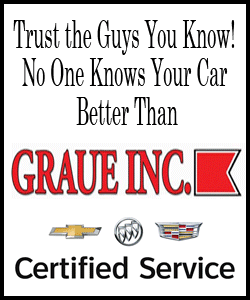 He noted that this particular group of girls has been playing competitive basketball since 4th grade. He attributes much of their success to the participation in American Youth Basketball Tour (AYBT) summer ball. "Prior to the 5th grade season we knew we had to bridge that gap between biddy ball and junior high ball. AYBT is basically teams of all-stars. By competing in AYBT we played a high level of competition that helped us to where we are now. It's been a great thing."
As Anderson looks ahead to the upcoming weeks of the basketball season he brings up the 8th Grade Logan County Tournament. "A week from Saturday (November 1) county starts, and I anticipate a rematch with West Lincoln-Broadwell, who we just beat in overtime by four points.
Then Saturday, November 15th is our 8th grade day against Springfield Christian, who beat us in sectionals last year. And we had just beaten them weeks before by 26 points. So you never know. After that it's two more regular season games and then regionals after Thanksgiving."

Anderson noted how quickly the season is going and before he got away, answered a quick question about Skylar Hayes. Hayes was recognized on the court prior to the start of Thursday night's game for scoring 1,000 points in her junior high career. Immediately upon shaking hands with Coach Anderson and receiving congratulations from her team she walked over the stands to hand the ball to her grandfather, Dick Hayes of Mount Pulaski. A gesture that certainly caught him by surprise.

Hayes scored her 1,000th point on the road Tuesday night as the Honeybears won 38-26 over Williamsville. Hayes scored 24 points in that win. To Coach Jamie Anderson's knowledge, Hayes is the first girls basketball player at Mount Pulaski to score 1,000 points at the junior high level. Quite an impressive feat.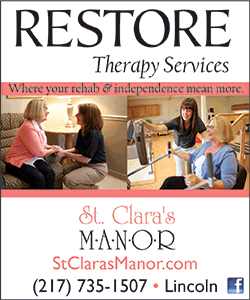 "I'm very proud of Skylar's achievement, but it's a team thing and we've all achieved it together," Coach Anderson said. Anderson has guided the Honeybears now for eleven seasons and has turned the program into a huge success. On the bench as an assistant with Anderson is Steve Hayes, father of Skylar. When asked about his daughter's accomplishment he was "humbled" but the smile on his face showed it was indeed one of those proud dad moments.

Assistant coach Hayes himself chose to talk more about the team instead of his own daughter noting, "These girls move the ball and find the open person so well. They share the ball and are very happy to do that." Indeed according to both coaches, it's all about the team, hence the slogan on the girls' warm-up t-shirts, "A TEAM ABOVE ALL - ABOVE ALL A TEAM"
[Teena Lowery]
Editor's Note: Skylar is the daughter of Steve and Jessica Hayes of Mount Pulaski. Her dad, Steve, was a basketball standout for Mount Pulaski. His Bruin team won the 1980 Class B State Championship and he was the sparkplug on that Hilltopper team that finished second in state to McLeansboro in 1984. Skylar's grandparents are Dick Hayes of Mount Pulaski, and Steve and Carolyn Schreiber of Lincoln.