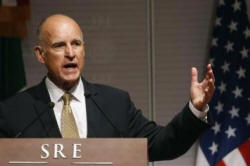 California governor lauds passage of 'historic' sick leave bill
Send a link to a friend Share
[September 02, 2014] By Brendan O'Brien

(Reuters) - A measure to grant California workers mandatory sick leave that passed the state legislature early on Saturday appeared poised to become law after Governor Jerry Brown lauded it as a historic achievement.
The bill would require employers to provide at least three days of annual paid sick leave to workers, who would accrue the time off at a rate of one hour per 30 hours worked.

If Brown signs the measure into law, California will join Connecticut as the only states mandating paid sick leave, according to the National Conference of State Legislatures.

"Tonight, the Legislature took historic action to help hardworking Californians," Brown said in a statement. "This bill guarantees that millions of workers - from Eureka to San Diego - won't lose their jobs or pay just because they get sick."

The bill passed the state Senate with a 22-8 vote late Friday and the Assembly early Saturday morning with a 52-25 vote.
Business groups have mostly opposed efforts to impose mandatory paid sick leave, saying that they could force businesses to pare back work forces and raise prices.

In contrast, some Democratic lawmakers said the California measure did not go far enough, because it does not cover home health care workers, most of whom are women.

"I resent the fact that we are picking between two sets of workers," state Senator Holly Mitchell told the Sacramento Bee newspaper.
According to the Washington, D.C.-based Institute for Women's Policy Research, some 44 percent of California workers may not have access to paid sick days.
A small but growing number of local governments have passed paid sick leave mandates, with San Francisco in 2006 becoming the first U.S. city to do so.

(Reporting by Brendan O'Brien; Editing by Jonathan Kaminsky and Leslie Adler)
[© 2014 Thomson Reuters. All rights reserved.]
Copyright 2014 Reuters. All rights reserved. This material may not be published, broadcast, rewritten or redistributed.