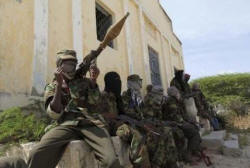 Somali officials say U.S. struck where al Shabaab were meeting
Send a link to a friend Share
[September 02, 2014] By Abdi Sheikh

MOGADISHU (Reuters) - An air strike by U.S. military forces struck an area where leaders of Somalia's al Qaeda-linked militants were meeting, intelligence sources said on Tuesday, but it was unclear whether any insurgent commanders were killed.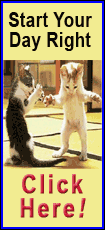 The strike prompted rumors among Somali government officials that it had targeted al Shabaab leader Ahmed Abdi Godane and other leaders who were suspected to have been at the location, but there was no confirmation they were hit.

If he were killed, it would be a major victory against the group.

Since taking charge in 2008, Godane has restyled the group as a global player in the al Qaeda franchise - a transformation that was highlighted when it killed at least 67 people in an attack on a Kenyan shopping mall in September.

The militants have also staged guerrilla attacks in parts of the capital, as well as in neighboring Kenya and Uganda.

Godane's close associate, Ahmed Mohamed Amey, was killed by a U.S. air strike in January.

After the Westgate assault, Navy SEALS stormed ashore into the al Shabaab stronghold of Barawe, where a regional official said the air strike was launched against, but failed to capture or kill their target.

The U.S. Department of Defense said late on Monday that its forces had carried out the operation against al Shabaab and would provide more information "when appropriate". The Somali government and al Shabaab officials could not be immediately reached for comment.

"There was an air strike at a base where senior members of al Shabaab had a meeting last night," a senior intelligence official who gave his name as Ahmed told Reuters on Tuesday.

"So far Godane's death is a strong rumor that may or may not turn to be true. What we know is that the militants were bombarded. However, it is difficult to know how many of them or who particularly died," he added.

Abdiqadir Mohamed Sidii, governor of Lower Shabelle region in southern Somalia, where the strike occurred, some 245 km (150 miles) southwest of the capital Mogadishu, said he believed Godane and other senior al Shabaab members had been killed.

[to top of second column]
"We understand a U.S. drone killed Ahmed Abdi Godane and other seven senior members last night near Hawaay area around Barawe town," Sidii told Reuters by phone.

Sidii did not say how he got the information on the attack, given the location is in an area still under al Shabaab control.

Residents in Haaway said they heard loud explosions late on Monday in an area they described as a densely forested.

Al Shabaab, which aims to impose its own strict version of Islam, controlled Mogadishu and the southern region of Somalia from 2006 to 2011. It was forced out of the capital by peacekeeping forces deployed by the African Union.

African Union forces launched a new offensive this year to drive the Islamists out of towns and other areas they still control, in response to a surge in gun and bomb attacks in Mogadishu by the militants whose fighters have targeted legislators and the presidential palace.

(Additional reporting by Feisal Omar and George Obulutsa; Editing by James Macharia and Alison Williams)
[© 2014 Thomson Reuters. All rights reserved.]
Copyright 2014 Reuters. All rights reserved. This material may not be published, broadcast, rewritten or redistributed.