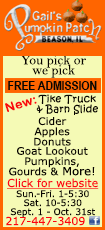 Tired of the same old thing? Need to get out of a rut? Looking for something to feed your imagination, awaken your curiosity, give you goose bumps, or even make you cry with joy? If so, then we've got the perfect opportunity for you!
Beginning September 1, come in to the Atlanta Public Library and choose your "Blind Date with a Book." With 50 surprise packages to choose from—including contemporary fiction, classics, historical fiction, romances, mysteries, suspense, and non-fiction—you're sure to find something to suit your taste. We even have a selection of Young Adult fiction and Junior fiction, too.
Anyone over the age of 12 is eligible to participate, and with every book you read, you receive an entry into our drawing for a $25 Casey's gift card. Write a book review for the Library's website and earn double entries. We will draw two winners on September 30.
So stop being predictable and come join the fun in September.
[Text received; CATHERINE MACIARIELLO, ATLANTA PUBLIC LIBRARY]