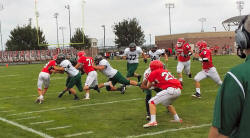 Mistakes add up, Railers routed
Send a link to a friend Share
[September 08, 2014] By Benjamin Yount

LINCOLN -- In the game of inches that is football, inches become feet, feet become yards, and yards become touchdowns. And in Saturday's loss to Chatham Glenwood, the Lincoln Railersplitters always seemed to be one inch away.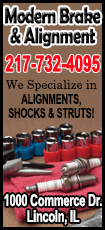 The Railers played their resched match against the Glenwood Titans Saturday at Glenwood High School and saw those missed inches turn into a 62-0 blowout.

" We're not mad at our guys," Railer Head Coach Andy McDonald said after the game. "We're frustrated that when we work on things in practice and we see guys do things correctly in practice, then they don't translate on the game field."

Lincoln did have chances throughout the game, however.

A Glenwood player's strong grip on a handful of senior Cameron Cook's jersey in the first quarter is all that stopped Cook from breaking a big kick return.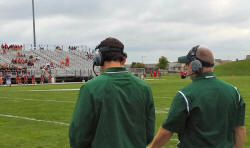 And a few plays later, junior quarterback Garrett Aeilts looked ready to convert a fourth down, but a Glenwood defender undercut the throw and took it back for a touchdown.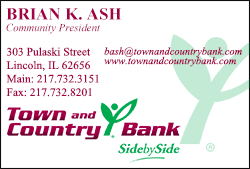 "I didn't really see (the defender) come in behind," Aeilts said. "I saw the receiver and thought he was wide open. But (the defender) made a good play on the ball."

And then there were all of the missed opportunities to bring down a Titan ballcarrier, and a small gain turned into something bigger.

"We've got to work on tackling. Team tackling especially," senior defensive back Chris Duong said. "One man is not going to cut it."

Chatham Glenwood coach Dan Rourke said his team had something to prove after an opening game loss to Decatur MacArthur.

"We needed to get out and get that bad taste out of our mouth," Coach Rourke said.

Lincoln will have to swallow hard to get the taste of such a lopsided loss from their pallet.

Coach McDonald said how each player does that is, a personal decision.

[to top of second column]
"A big part of that is the motor the young man has to find for himself,"McDonald said as the frustration got to him Saturday afternoon. "(As a coach) you can only do so much. There has to be a strong will and desire to come out and play physical."
The Railer players should expect to display that physicality next week on the practice field.
"As a leader I gotta help motivate my team to do better," the senior Duong said. "Just try and get some excitement and fun (going) at practice."

Monday will have the Railsplitters watching tape, McDonald said there will be some highlights.

"There's always something positive," McDonald added. "We ran some plays (where) we'll see some good blocking."

But McDonald said the challenge, as it has been all year, is to find 11 young men who can (and do) play hard on each and every down.

"There has to be an inner drive and will that has to be very strong in order to play this sport," McDonald added.

With the win, Chatham Glenwood moves to 1-1 on the season. The Titans will travel to Springfield Southeast next week.

The loss drops the Railsplitters to 0-2 on the season. The next opponent for the mighty green is Springfield High School. That game is scheduled for Friday night at Handlin Field, kickoff is set for 7 p.m..
[© 2014 Thomson Reuters. All rights reserved.]
Copyright 2014 Reuters. All rights reserved. This material may not be published, broadcast, rewritten or redistributed.