"Cookin up a Cure" raises $60,000 for Cancer
Send a link to a friend Share
[September 10, 2014] LINCOLN - This year's Relay for Life of Logan County fundraising results have been finalized. The theme this year was "Cookin up a cure for Cancer". In the event this year, there were many people who worked tirelessly to make it successful in spite of threats of nasty weather.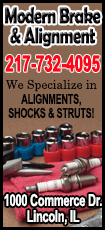 Though the day of the annual relay began with rain and stormy weather, by evening time, the skies had cleared and the group was able to do their all-night relay outside at the Lincoln College Lincoln Center.

The fundraising goal for 2014 had been set at $71,000. While the Relay committee didn't quite see that goal, the year of fundraising activities did bring in a total of $60,000. In addition to raising money, the Relay raises awareness and the committee felt that they did do a great job of that this year.

They raised awareness of new preventative measures that can help keep the disease at bay, and also of new symptoms that can help with earlier detection of Cancer.

Throughout the year, the Logan County group also helped disburse information about healthy lifestyles and particularly about healthy eating habits.
Dietary information has been shared and posted throughout the year, with new information posted on the Relay for Life of Logan County website at www.relayforlife.org/loganil.

This year at the relay, held on July 26th and 26th. Twenty-three teams with 190 survivors, caregivers and supporters took to the track at various times all night to draw attention to this cause and celebrate the lives of Honorary Co-chairs: Nicole Botrell and Nancy Reese and other survivors.

Teresa Luken kept all alert with activities and lap themes. When the luminaria were lit, the total number of star studded bags lining the track were 776. During the luminaria reading, silence prevailed as Bill Post read the names of this years honorees and the donor. The ceremony was climaxed with the playing of the bagpipes by Jim Turley.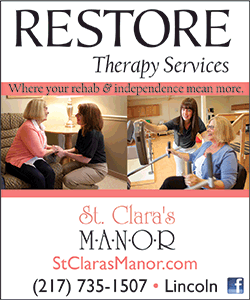 Co-chairs for 2014 Relay were Nicole Lee and Trenton Crawford.

Top Fundraising individual for 2014 was Donna Miles.
Top fund raising individual was Donna Miles

In the gold level ($5,000 or more) fundraising efforts the top fund raising team was Angels all around followed by Ethel's Angels

In the silver level ($2,501 to $3,500) the top fundraising teams were Faith, Hope and Love and Bosom Buddies.

In the bronze level ($1.00 to $2,500) the top fundraising teams were Purpose Driven People, St. Peter Lutheran of Emden, Railers Fighting Back, and the Northwest Wildcat Walkers.

Thanks to everyone who worked so hard to make this year a success.
[Text received; Tonita Reifsteck]
2014 Relay for Life Magazine
Published by Lincoln Daily News